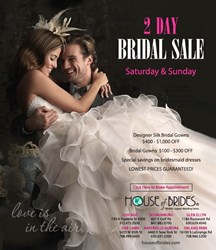 Says Industry Consultant Dale Buziecki, "The collections have such variety from classic to contemporary designs. They're sure to appeal to every bride."
Glen Ellyn, IL (PRWEB) January 09, 2014
The new designer collections have arrived at House of Brides salons and will be a key feature to the weekend's bridal sale. The retailer is using the sale as the launch because it marks the beginning of the busy season for the wedding industry.
The wedding dresses offer a wide selection of styles. Says Industry Consultant Dale Buziecki, "The collections have such variety from classic to contemporary designs. They're sure to appeal to every bride."
The company is the only retailer of the collections, which it boasts as truly one-of-a-kind gowns.
The collections are now available at the salons. Availability continues after the sale.
The Bridal Super Sale is Saturday, January 11th and Sunday, January 12th. The event is hosted at the 6 salons located in Chicago, Schaumburg, Glen Ellyn, Oak Lawn, Naperville/ Aurora and the new wedding super store in Orland Park.
Advertised savings include $100.00 - $300.00 off bridal dresses. Designer Silk gowns are $400.00 - $1,000.00 off. Special savings are also available on Diva wedding gowns in sizes 18 – 32.
The special savings continue to bridesmaid dresses. The salons carry over 700 different bridesmaid samples available in an array of colors. Most styles are orderable in adult, junior and women's sizes.
Appointments are suggested.
To make an appointment online, customers can click Appointments on the website. Or customers can visit Locations & Hours to find the most convenient salon.
About House of Brides:
House of Brides established its first brick-and-mortar store in 1929 and has since grown to 11 Chicagoland stores and global E-Commerce website, http://www.houseofbrides.com. Millions of brides and their wedding parties visit the salons and global website for over 50,000 wedding and special event products