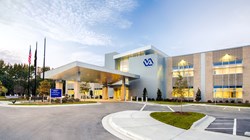 Greenville, NC (PRWEB) January 13, 2014
Gilbane is pleased to announce an on-time delivery of the Department of Veterans Affairs' new Health Care Center (HCC) located at 401 Moye Boulevard in Greenville, NC. In September 2011, the Department of Veterans Affairs awarded Gilbane Development Company a long-term lease to deliver the new Greenville HCC within 24 months, specifically by October 31, 2013. Using a vertically integrated "one company" approach, Gilbane Building Company served as General Contractor, working with local contracting partner Custom Building Company, architects BBH Design and Array Architects, structural/MEP engineer Dewberry, and civil engineer Rivers & Associates.
Gilbane's financial stability removed financing from the critical path, enabling construction to commence within four months of lease award and ensuring delivery of the HCC within the required 24-month time frame. Gilbane worked closely with the design team, the VA Mid-Atlantic Health Care Network leadership, VA user groups, and VA on-site management to maintain exceptional communication throughout the project and minimize extra costs to the government along the way. Gilbane also implemented a LEAN Concepts with regard to multiple facets of the delivery of this project allowing mobilization of construction on the earliest possible date, key to ensuring on-time delivery of the HCC.
"We are honored to provide this extraordinary facility to the men and women who have served our nation," noted Gilbane Development Company's Vice President John Keegan. "The efforts of all project team members and VA constituents throughout the entire process were remarkable, and the end result will surely provide veterans with the care they most certainly deserve."
Gilbane's ability to deliver the project on schedule prompted praise from the Durham VA Medical Center. Sara Haigh, Associate Director of the Durham VA Medical Center, noted, "We are so pleased with the on-time completion of the Greenville VA Health Care Center project. This intelligently-designed, state-of-art facility will enhance our mission to honor America's Veterans by providing exceptional health care that is personalized, proactive, and patient-centered."
The new HCC, which is LEED Silver registered, is about seven times the size of the VA outpatient clinic it replaces and has 475 parking spaces, including ample parking for Veterans with disabilities.
In addition to Primary Care and Mental Health services, the HCC will offer a much broader scope of services including audiology, cardiology, dermatology, pharmacy, eye, dental, radiology, endoscopy, and other specialty care services. The expanded facility is expected to be able to serve about 20,000 Veterans which is more than double the number served in the previous facility.
About Gilbane
Gilbane Inc. is one of the largest privately held family-owned real estate development and construction firms in the industry. Proudly family-owned and operated since 1873, our rich history combines with our extensive knowledge of today's ever-changing demands, allowing us to deliver the best facility solutions for our clients. We are steadfast advocates for our clients, our employees, and the communities in which we work. Through community involvement, sustainable business practices, and unwavering integrity, we are always striving to be better and to do better.
Gilbane Inc. comprises two operating companies: Gilbane Building Company and Gilbane Development Company. These two often work jointly as one company to provide integrated expertise in finance, property development, planning and commercial construction. To learn more, visit http://www.gilbaneco.com or call 1-800-GILBANE.
###