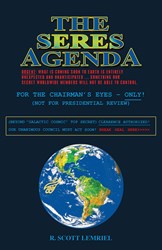 (PRWEB) January 10, 2014
R. Scott Lemriel, author, screenwriter, director, music composer, and mystical hidden truth-revealing researcher for over forty years, has completed "The Seres Agenda": a deeply engaging powerful story that reveals how world wide governments secretly signed a treaty with a diabolical totalitarian extraterrestrial race, after World Ward II, to gain advanced alien technology during the Cold War with the former Soviet Union. Most importantly, it also reveals how this hidden diabolical dilemma is about to be permanently benevolent solved so that our planet can be transformed instead of destroyed.
"I created 'The Seres Agenda' for the purpose of sharing this unique uplifting experiential channel with my current and future readers for their great unanticipated benefit. I was on fire with the inspiration to write the book based upon the many extraordinary consciousness expanding events I have thirstily embraced throughout this lifetime, and from the remarkably beneficial effect my music compositions have on me and others as an insightfully inspiring creative channel."
Prior to publishing a book of his own, R. Scott Lemriel contributed to The Venusian Trilogy – a book written by Omnec Onec: who states she is a Venusian who was brought here by her scientist Uncle to continue her spiritual training and be a representative of the peaceful and very advanced Venusian culture for the benefit of Earth's people. G. Kouki Wohlwent, the owner of the European publishing company, Das Gute Buch (The Good Book), which published her book that contains R. Scott Lemriel's first published works as an author, was asked to comment on his recent publication in Omnec's book. She gladly responded with a great deal to say.
"There is a tremendous increase or upcoming interest for spiritual literature that can really personally benefit people. There is most certainly a growing or awakening consciousness that is taking place for many people in the world, and the love expressed in the message of Onec's recently published book exists to help this expand. The last chapter by R. Scott Lemriel, as the conclusion to this trilogy, is a highlight. In addition, he provides a very new uplifting imaginative spiritual exercise the reader can try to help him or her expand their insight from within – from the very center of their being (Soul), so they can naturally express more love, more understanding, and more tolerance for all beings in this world and in the greater universe."
Published by New York City-based Page Publishing, R. Scott Lemriel's poignant tale uncovers multiple layers of purposefully orchestrated covert deceptive misdirection that leads the reader to the shocking but highly beneficial discovery that amazing changes are coming in the near future for the entire human race.
After being attacked by the evil extraterrestrial forces for coming too close to the truth of the very dire situation on Earth – that all people are in peril – successful hidden truth-revealing research author, Mark Santfield, starts to put together the long-forgotten suppressed aspects of his own life. Then he discovers the unexpected vital role he is destined to play with changing Earth's destructive direction to that of a coming unexpected liberating transformation.
Readers who wish to experience this chilling but uplifting beneficial journey can purchase "The Seres Agenda" through R. Scott Lemriel's unique website at: paralleltime.com, at bookstores everywhere, or online at Amazon.com, GooglePlay.com, Barnes&Noble.com, or at Apple.com at: itunes.apple.com/us/app/ibooks/id364709193