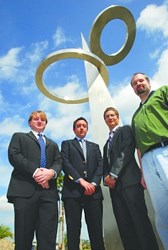 Embry-Riddle students have been examining the environmental impact of the Dassault Falcon 10 business jet.
(PRWEB) January 09, 2014
Embry-Riddle Aeronautical University and Dassault Falcon Jet have renewed their collaboration on education, research and business projects for another three years, a partnership that supplies internship and employment opportunities for the university's students.
Signing the memorandum of understanding at the National Business Aviation Association's Convention & Exhibition were Embry-Riddle President Dr. John P. Johnson and Dassault Falcon Jet president and CEO Jean Rosanvallon, who is an Embry-Riddle alumnus.
Under the previous three-year agreement, Dassault Falcon Jet, its parent company Dassault Aviation and Embry-Riddle's College of Engineering established the Dassault Design Institute (DDI) at the university's Daytona Beach, Fla., campus.
There, engineering undergraduate students receiving data and guidance from Dassault examined such factors as fuel, weight, engine thrust and cruising altitude to determine the environmental impact and performance efficiency of different business jets, using the Dassault Falcon 10 as a platform to evaluate technologies.
That work will continue as the DDI evolves to incorporate engineering graduate students basing their master's theses on Dassault research projects that strive to improve the performance of current and future Falcon jets with advanced technologies such as winglets on wingtips, more electrical architectures or new ways to reduce internal noise.
"We value the out-of-the-box thinking that students bring to the table, along with their energy and enthusiasm," said Rosanvallon. "Projects of this kind are a forum for the dissemination of Dassault's work and a scouting ground for future prospects. In fact, many Dassault engineers received their degrees from Embry-Riddle."
The mentoring team for the Falcon 10 project has included Don Pointer, director of Marketing Services and Development with Dassault Falcon Jet, who is an Embry-Riddle alumnus and co-chair of the College of Engineering's Industry Advisory Board; Lionel de la Sayette, senior vice president of Strategy at Dassault Aviation; Michel Lavanant, senior Falcon Technical Program manager; and Dr. Maj Mirmirani, dean of Embry-Riddle's College of Engineering at the Daytona Beach Campus. Dr. Snorri Gudmundsson was the faculty advisor for the first phase; Dr. Luis Gonzalez will take charge of the new phase. Both are assistant professors of aerospace engineering at Embry-Riddle's Daytona Beach Campus.
"We're excited to renew our relationship with Dassault and carry on the work of the Dassault Design Institute," said Dr. Mirmirani. "Through these projects, our students are engaging in a dialogue with manufacturers, pilots and engineers that exposes them not only to real-world technical challenges but also to the business environment. This experience gives them a substantial advantage in the job market."
Besides collaborative research projects and student internships, the agreement between Embry-Riddle and Dassault calls for joint development of academic and training programs and for coordination on a wide variety of activities, such as exhibitions, conferences and competitions.
About Dassault Aviation
Dassault Aviation is a leading aerospace company with a presence in over 80 countries across five continents. It produces the Rafale fighter jet as well as the complete Falcon line. The company employs a workforce of over 11,000 and has assembly and production plants in both France and the United States and service facilities around the globe. Since the rollout of the first Falcon 20 in 1963, over 2,250 Falcon jets have been delivered. The family of Falcon jets currently in production includes the tri-jets—the Falcon 900LX and the 7X—as well as the twin-engine 2000LXS, the Falcon 2000S and the new Falcon 5X. For more information, visit http://www.dassault-aviation.com.
About Dassault Falcon Jet Corp.
Dassault Falcon Jet Corp. is a wholly owned U.S. subsidiary of Dassault Aviation, France. Dassault Falcon Jet markets and supports the Falcon family of business jets throughout North America, South America and the Pacific Rim countries of Asia, including the People's Republic of China. For more information, visit http://www.dassaultfalconjet.com.
About Embry-Riddle
Embry-Riddle Aeronautical University, the world's largest, fully accredited university specializing in aviation and aerospace, is a nonprofit, independent institution offering more than 40 baccalaureate, master's and Ph.D. degree programs in its colleges of Arts and Sciences, Aviation, Business and Engineering. Embry-Riddle educates students at residential campuses in Daytona Beach, Fla., and Prescott, Ariz., and through the Worldwide Campus with more than 150 locations in the United States, Europe, Asia and the Middle East. The university is a major research center, seeking solutions to real-world problems in partnership with the aerospace industry, other universities and government agencies. For more information, visit http://www.embryriddle.edu, follow us on Twitter (@EmbryRiddle) and http://www.facebook.com/EmbryRiddleUniversity, and find expert videos at YouTube.com/EmbryRiddleUniv.
----
Media Contact
Mary Van Buren
Assistant Director, Communications
Marketing & Enrollment Management
Embry-Riddle Aeronautical University
Office: (386) 226-6525
mary (dot) van (dot) buren (at) erau (dot) edu
http://www.embryriddle.edu