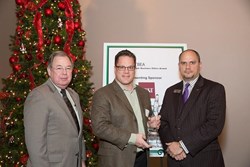 Receiving the Greater Tarrant Business Ethics Award 2013 reinforces the fact that we live our value system in pursuit of TriQuest's goals, in turn attracting customers who desire a trusted partner and enhancing the work-life experience of our personnel.
Fort Worth, TX (PRWEB) January 14, 2014
IT service provider, TriQuest Technologies, Inc., receives the 2013 Greater Tarrant Business Ethics Award from the Fort Worth Chamber of Commerce. This prestigious award recognizes TriQuest Technologies' adherence to ethical business practices across all of the information technology products and services the company provides to mid-size and small businesses in the Dallas-Fort Worth area. http://www.triquesttech.com
Judged by a panel of business owners and professionals, the annual ethics award acknowledges the winner as a leader in ethical business based on three key criteria:
1. Clear communications of the company's ethical standards
2. Transparent, honest and fair business practices
3. A code of ethics, credo, code of conduct, or mission statement that clearly spells out the company's requirement for honesty, integrity and compliance with the law in all business dealings
"We truly appreciate receiving this award from the Fort Worth Chamber of Commerce, because ethical business is so important to us," explained TriQuest Technologies CEO Gary Tonniges, Jr. "Every member of the TriQuest team supports our ethical company culture, which is based on a set of shared values that are at the core of everything we do. These values require our employees to have a love of learning while being trustworthy, conscientious, persistent, honest, positive, humble, diligent, happy, and respectful."
TriQuest Technologies integrates its ethical values and business practices into all aspects of its business, beginning at the hiring process. "All TriQuest Technologies employees are full-time employees who must commit to meeting our high ethical standards every day," says Tonniges. "These ethical standards are communicated during the hiring process and all employees are held accountable for them. We don't use subcontractors or third parties, so our clients can feel confident that they always receive consistent, honest, and fully transparent work from every TriQuest team member they come in contact with. I can't imagine doing business any other way."
By focusing on ethical behavior and top quality from its employees, TriQuest Technologies stands out from cost-cutting managed service providers. Guy Cumbie, president of Cumbie Advisory Services, Inc. and a member of the Greater Tarrant Business Ethics Awards committee shared, "The moral principles guiding TriQuest Technologies' philosophies and the tangible set of practices employed by its management were clearly demonstrated in response to a rigorous application process."
In addition to winning the 2013 Greater Tarrant Business Ethics Award, TriQuest Technologies is also a previous two-time winner of the Fort Worth Chamber of Commerce Small Business of the Year Award. Chamber President and CEO Bill Thornton applauded TriQuest Technologies' for its commitment to "set the bar very high as a model of working with impeccable integrity."
The 2013 Greater Tarrant Business Ethics Awards were presented by BB&T with platinum sponsorship from Bourland, Wall & Wenzel, P.C. and Thi!nk Finance on December 11, 2013 at Judge Glen Whitley's State of the County address. Additional partners included the TCU Neeley School of Business, the Fort Worth Chamber of Commerce, the Society of Financial Service Professionals, the Financial Planning Association of Dallas/Fort Worth and the Fort Worth Business Press.
More information about TriQuest Technologies can be found at http://www.triquesttech.com.
About TriQuest Technologies
TriQuest Technologies (http://www.triquesttech.com) is an award-winning industry leader located in Fort Worth, Texas providing IT services to small to mid-sized companies. The TriQuest Technologies team of highly-trained technical experts has been meeting the unique needs of both private and public businesses located in the Dallas-Ft. Worth area since 1997. TriQuest Technologies delivers personalized service and customized IT assessment, implementation, management, and security solutions that guarantee reliable technology performance to help businesses reach their growth goals. TriQuest offers customized Microsoft network planning and installation, Apple solutions, computer support, user training, and business consulting services, including strategy and budgeting.