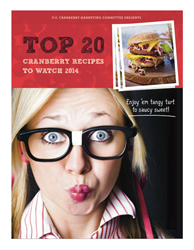 Cranberries are unique in that they pair deliciously with all five categories of the USDA Food Plate ~ Vicki Nimitz, Wisconsin cranberry grower
Wareham, Massachusetts (PRWEB) January 14, 2014
The U.S. Cranberry Marketing Committee (CMC) announces the release of its first chef developed and taste tasted eCranberryCookbook. Called the "Top 20 Cranberry Recipes to Watch in 2014: Eat 'em tangy tart to saucy sweet!" the cranberry-enhanced recipes include: Easy-Peezy Cranberry Dishes, Cranberry Pasta Favorites, Cranberry Enhanced Vegetarian, Cranberries and Minced Meats, and "Cran-tastic" Confectionary Favorites.
The CMC plans to unveil four U.S. cranberry eCookbooks this year with emphasis on the bold, versatile, and healthy culinary applicability of North America's native cultivated berry. "As a reflection of the increasingly global reach of U.S. cranberries, these new recipes are part of a collection of over 170 that have been developed by the CMC through our U.S. partner representatives in Europe," said Scott J. Soares, Executive Director, CMC. "Once we saw these recipes translated into English, we immediately recognized their high quality and creativeness as a great opportunity to enhance U.S. cranberry recipes."
Vicki Nimitz, a Wisconsin cranberry grower and chair of the CMC Domestic Marketing Subcommittee elaborated, "Cranberries are unique in that depending on your preference they can be eaten tart or sweet and U.S. cranberries pair deliciously with all five categories of the USDA food plate every season of the year."
The photo-rich cranberry eCranberryCookbook is free of cost, complements the CMC's current suite of cranberry recipes already available at http://www.uscranberries.com and creates even greater opportunities to make U.S. cranberries a daily and year-round menu option.
Said Ali Berlow, author and co-publisher of Edible Vineyard magazine, "Bright bursts of flavor and ruby-red in color, cranberries are delicious with main courses, drinks, and desserts. Cooks, keep these delightful fruits in your kitchen and within easy reach, all year round!"
"I love cooking with cranberries and this little cookbook is packed with great ideas on how to incorporate the tangy and tart fruit into sweet and savory dishes," said Robin Cohen, owner of Doves and Figs, LLC
The American cranberry (Vaccinium macrocarpon) is only one of three cultivated native North American fruits; the other two are the blueberry and Concord grape. Its increasing global popularity as fresh, frozen, dried or juice product forms has led to continued diversification and an increasingly wide variety of culinary innovations.
Recent research shows evidence that the cranberry may provide big health benefits. A serving of fresh cranberries is a good source of vitamin C and fiber, provides antioxidant polyphenols, and contains only 1 mg of sodium.
About the Cranberry Marketing Committee (CMC)
The CMC was established as a Federal Marketing Order in 1962 to ensure a stable, orderly supply of good quality product. Authority for its actions are provided under Chapter IX, Title 7, Code of Federal Regulations, referred to as the Federal Cranberry Marketing Order, which is part of the Agricultural Marketing Agreement Act of 1937, as amended. This Act specifies cranberries as a commodity that may be covered, regulations that may be issued, guidelines for administering the programs, and privileges and limitations granted by Congress. For more information about the CMC, visit uscranberries.com or follow @uscranberries and Cranberry Cravers on Facebook.