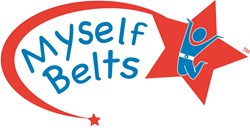 St. Louis, MO (PRWEB) January 11, 2014
Myself Belts, a leader in the children's belt market, and Autism Speaks, an advocate for the autism community, have joined forces for the month of January. Myself Belts is donating 25% of sales from orders that use the code AUTISM to Autism Speaks during the month of January. Myself Belts, which are easy belts for kids pants that make dressing easier, have proven to be extremely helpful to kids and adults on the Autism Spectrum. The partnership with Autism Speaks provides an avenue for Myself Belts to expand awareness about their innovative belt line, while providing families with a product that can make daily life much easier.
Autism Speaks is one of the world's leading autism science and advocacy organization, dedicated to funding research into the causes, prevention, treatments and a cure for autism. The organization also increases awareness of autism spectrum disorders and advocates for the needs of individuals with autism and their families.
Myself Belts were created when the founder, Talia Goldfarb's, toddler's pants would not stay up around the waist. There were no easy belts for kids pants on the market that were simple for young hands to fasten, so Myself Belts were invented. Myself Belts are a great fit for Autism Speaks' mission as the patented one-handed belt closure makes dressing a stress-free experience and provides a much needed tool to promote independence. Myself Belts are perfect for growing children and they take the guesswork out of finding perfect toddler belts for boys and girls, which allows parents to choose fitted pants instead of elastic alternatives.
Both Autism Speaks and Myself Belts are promoting their partnership via social media channels and on the respective websites. The response so far has been great with over 1,300 "likes" on Autism Speaks' first Facebook post about the innovative belts. There has been a high rate of sales for Myself Belts Teen Belts and Adult Belts as a result of this promotion. Expanding awareness while helping others is a mission of both of both companies.