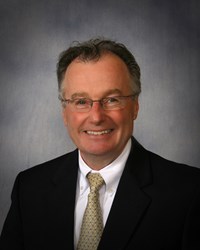 Dr. Jim Hanley's outstanding background in dental education and practice, his leadership experience...and his strong dedication to the student experience uniquely position him to lead our College forward. -- Dr. James Koelbl, Founding Dean and UNE Provost
Portland, Maine (PRWEB) January 09, 2014
Dr. Hanley has an extensive background in private practice, dental education and administration that positions him to lead University of New England's newest College, which enrolled its inaugural class in August 2013. This includes a distinguished 34-year career at Tufts University School of Dental Medicine, most recently as Associate Dean for Clinical Affairs and Associate Professor of Periodontology.
At Tufts, Dr. Hanley has demonstrated a successful record of collaborative engagement with students, faculty, staff and administrators, working as a member of the senior leadership team on initiatives related to strategic planning, curriculum revision, patient care, research, accreditation, budget, advancement, recruitment and interprofessionalism.
In his role as Associate Dean for Clinical Affairs at Tufts' School of Dental Medicine, Dr. Hanley leads a team of 65 staff members who support the care of 650 patients a day in Tufts' complex educational environment.
"Dr. Jim Hanley's outstanding background in dental education and practice, his leadership experience, his close connection to the New England area, his commitment to the mission of UNE and the College of Dental Medicine, and his strong dedication to the student experience uniquely position him to lead our College forward," stated Dr. James J. Koelbl, Founding Dean of the College of Dental Medicine and Provost and Senior Vice President of UNE. "I am extremely pleased to be able to turn the deanship over to someone of Dr. Hanley's caliber as I move forward in 2014 in my new role as Provost."
Dr. Hanley has received numerous honors and awards, including the 2012 Provost's Award for Teaching and Service at Tufts. He was named a Fellow of the American Dental Education Association Leadership Institute in 2011, a Fellow of American Academy of Dental Science in 2009, a Fellow of the American College of Dentists in 2006, and a Fellow of the International College of Dentists in 2006.
Dr. Hanley received his D.M.D and his Advanced Education Certificate in Periodontology from Tufts University School of Dental Medicine. He was awarded Diplomate status by the American Board of Periodontology in 2005.
UNE's College of Dental Medicine inaugural class of 64 includes 24 students from Maine, representing 11 counties and more than 20 towns. There are also five students from New Hampshire, four from Vermont and other students representing 16 states in addition to Canada.
Once UNE's Oral Health Center is fully operational, faculty and students will provide approximately 12,000-15,000 patient visits per year in the Center, with an additional 20,000-25,000 visits per year provided in the community-based network.
About University of New England
The University of New England is an innovative health sciences university grounded in the liberal arts, with two distinctive coastal Maine campuses and a new campus in Tangier, Morocco that opened in January 2014. UNE has internationally recognized scholars in the sciences, health, medicine and humanities; offers more than 40 undergraduate, graduate and professional degree programs; and is home to Maine's only medical and dental schools. It is one of a handful of private universities with a comprehensive health education mission including medicine, pharmacy, dental medicine, nursing and an array of allied health professions. UNE's interprofessional education initiatives prepare future healthcare professionals to practice comprehensive and collaborative team-based care. Both graduate and undergraduate students engage in research and scholarship alongside dedicated faculty who are committed to their academic and professional success.
For more information, visit http://www.une.edu.