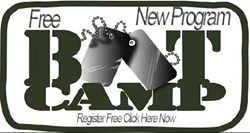 Not Your Average Fitness Routine; Train With The Best for Free
Mesa, AZ (PRWEB) January 09, 2014
As a way to show support to local community members who have health-related goals and are actively seeking out fitness solutions for the new year Fitness Works has just announced that they will be offering boot camp classes for gym members that is also available for the open public every Saturday morning at 8:30 am in Mesa, Arizona.
Boot camp will take place on the NE Corner of Recker and Brown outside in front of the Fitness Works facility. Those interested in attending the boot camp class in Mesa, Gilbert are asked to register weekly to ensure their spot as classes will fill up fast.
Registration and coaching setup will start at 8:30 am with the workout following immediately afterwards at 9:00 am. As a reminder, Fitness Works recommends individuals bring their own personal towel, water bottle, workout gloves and any other personal item they're accustomed to using during workouts. Water will be provided during this class for all in attendees as a courtesy.
"As it stands an estimated 8 out of 10 people sign up full-time after just two boot camp classes at Fitness Works. We've been the leader in providing boot camp fitness solutions for gyms in Maricopa County, AZ residents since 1992. By providing both fitness results and boot camp options, we hope that everyone will join in on this intense 50 minutes get-your-butt-in-shape workout!" states Fitness Works Manager, Kush Joshi.
Fitness boot camps offer up an intense no-nonsense workout that almost anyone will ever experience. An advantage of the boot camp is that the large group dynamic helps motivate other classmates. In addition to the social support the environment, boot camp settings are ideal for exercisers who get bored in a gym and for those who find it hard to develop a habit of exercise.
Those from the general public who wish to consider registering for this boot camp in Mesa, AZ are also encouraged to register online for Fitness Works premier 21-day guest pass which is offered to prospective members.
Fitness Works Manager, Kush Joshi provides a noteworthy comment on their exclusive internet deal, "With the 2014 in full-swing, we wanted to offer new guests with a true gym experience in additional to our new boot camp class - by offering individuals a quality trial period. We know that 7 to 10 day trials are just not enough. Our 21-day gym pass gives guests access to classes, personal training, pool, sauna and the ability to visit any one of our four Fitness Works Athletic Clubs in and surrounding Phoenix, Arizona."
For the past 20 years, Fitness Works has transformed the way individuals think about fitness throughout the state of Arizona. Every one of their state-of-the-art gyms in the Phoenix area are focused with giving their clients options, flexibility and the best support system possible in order to reach their goals. Fitness Works Athletic Clubs plan to offer up their fitness boot camp to members and the public in Mesa, Gilbert Arizona from now till further notice?.
For media inquiries Fitness Works and their exclusive fitness boot camp, please contact (Boot Camp Director), (Melissa G.) at (480) 396-0086. To learn more about the fitness boot camp or to register for Saturday morning classes visit: http://www.fitnessworks.com/class_registration.aspx.