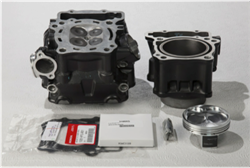 ...the real fun is in higher output and better performance.
Plymouth,WI (PRWEB) January 11, 2014
Millennium Technologies understands the need for more power. Having a flashy and or stylish cycle is always a plus, but the real fun is in higher output and better performance. Millennium Technologies has created the first Big Bore Performance Top End Kits for the 2011-current Honda CBR250R and CRF250L. The kits will be offered in different stages ranging from a straight forward cylinder exchange to a new, completely modified top end.
Millennium Technologies is now carrying exclusive packages that include services and parts. These all-inclusive bundles include assembly for each kit, or if you're more of a DIY enthusiast, Millennium will gladly send you new parts as part of a discounted exchange package.
The Stage 1 kits for the CBR250R and CRF250L boost the displacement up from 250cc to 285cc and work with both stock exhaust systems and stock ECM mapping. The Stage 1 kit is $375 with exchange. Stage 2 and Stage 3 will include extra services such as top end cylinder rebuilding, CNC services for cylinder heads, and cam selection and installation. See the parts and service details for each kit below:
Stage 1 Big Bore Cylinder Kit

Millennium Technologies Sleeved Honda Cylinder
Wiseco 285cc 14:1 Compression Ratio Piston
Cometic EST Gasket Kit
Gain of +4 HP
Stage 2 Big Bore Cylinder & CNC Ported Head

All Stage 1 Kit Parts
CNC Ported and Hand Polished Honda Head with KPM Ampco 45 Bronze Guides and a Multi-Angle Valve Job
Original valves are back-cut for better low lift flow.
Gain of +6 HP
Stage 3 Big Bore Cylinder, CNC Ported Head and Yoshimura Full Exhaust & Tuner

Includes all Stage 1 and Stage 2 Parts and Services
Full Stainless Yoshimura Exhaust System
PIM-2 Tuner
Tuner Flashed with Customized Map
*Please keep in mind that every Stage kit does require a Yoshimura tuner. During R&D we have found that all the kits run lean enough to require an effective tuning system. The Stage 3 kit is the only kit that includes the purchase of a Yoshimura tuner.
Our big bore kit is the most reliable way to give your CBR250R more power while delivering amazing reliability and conserving gas mileage. These kits are simple to install and offer power you can feel through-out the entire rev range. Each cylinder comes with a limited life-time warranty and we provide installation tech support on all of our kits. For further information and pricing see our website at http://www.mt-llc.com today.