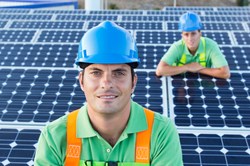 John Green of Innovative Solar Systems claims that their company has set records in NC for 2014 with the amount of large scale solar farm projects they are developing.
Asheville, NC (PRWEB) January 09, 2014
Innovative Solar Systems, LLC is blazing a new path in renewable energy here in North Carolina with its 2014 pipeline of over 800MW's of solar farm projects. John Green, one of the managing partners of ISS said that it is very exciting to see their first of many 50MW solar farm projects coming out of the approval stages with Duke Energy. These large scale solar farms just make more sense for our institutional size investors due to the overall reduction in soft costs as well as hard costs as related to the build out of projects in the over 25MW range here in the state said Green. We have the installed costs on solar farms dialed in at somewhere between $1.25-$1.35/watt on these large projects making the returns well into the double digits for our investors, buyers or owner operators.
When asked about equipment vendors on these large solar farm projects Green was rather tight lipped, but indicated that ISS has some of the best pricing per watt for panels, inverters and racking systems while using only companies that are considered tier one and bankable by their investors and owner operators. ISS is recognized as a leader in the development and implementation of large scale solar farms both in North Carolina and world wide. The partners at ISS wear many hats as power system engineers, land developers, and licensed building contractors with no limitation on their licenses as held in NC.
Green states that many have tried to develop utility scale solar farm projects like ISS in NC as well as nationwide, but few will stack up to the standards of Innovative Solar Systems as ISS has become the gold standard for solar farms as viewed by capital groups, private investors, hedge funds and renewable energy experts in our industry. When it comes to due diligence on solar projects ISS covers the bases, bullet proof recorded leases with title commitments, Alta surveys, Phase 1 Environmental Studies, solid site layouts and some of the best system design and engineering to assure clients some of the best returns in the solar industry. ISS is always interested in joint ventures on one or more of the large projects in the company's 2014 portfolio so feel free to call them today at (828)-215-9064 to learn more.