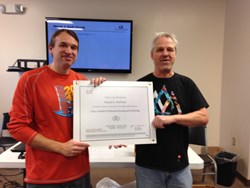 Frederick, Maryland (PRWEB) January 11, 2014
Team Caveo provides Information Technology training and career counseling to assist the economically disadvantaged establish careers in this rapidly growing job market.
Partnered with the Frederick Rescue Mission, Team Caveo offers a 16-week computer networking training course to the Mission's residents. The course is a mixture of lecture and practical exercises allowing the students to understand the theory while applying it in a lab environment. The course prepares students to receive an industry certification to demonstrate their proficiency with the technology.
Last September, Team Caveo graduated three students from its pilot class and all three became Cisco Systems certified. One immediately found employment without any previous IT experience. Based upon this success, Team Caveo launched its second class at the Mission in October.
In cooperation with the Frederick County Workforce Services, Team Caveo opened the program to military veterans in December and has plans to make the program available to Frederick County residents.
"Between Baltimore and DC, we live in one of the largest IT markets in the country. There are more jobs than people qualified to fill them. There are a lot of intelligent people who may have an aptitude for this line of work and were never given the opportunity. We are opening the door for them," said program founder, Jeff Colburn. Mr. Colburn has twenty-four years of experience in the industry and has run his own IT company for the past decade.
This year, Team Caveo will expand its training offerings in the areas of PC technician / Desktop Support, Information Security, Systems, and Data Center technologies. Team Caveo will work closely with local group, Tech Frederick and other industry partners to identify market needs so to continually develop and evolve the program to meet those needs.
In addition to the technology training, Team Caveo prepares their students to enter the job market. Drawing on the resources offered by Frederick County Workforce Services and other experts; Team Caveo assists its students with resume building, job hunting, and interviewing.
"Our graduates possess a mix of technical knowledge, industry best practice, and hands-on experience, making for the ideal entry-level candidate. We want to ensure they are able to express this knowledge in their resume and during interviews," said Jeff Colburn.
Team Caveo's mission is simple; get people trained and their career started. Team Caveo knows the program's success will be based on the cooperation with the local tech community and the quality of its training program.