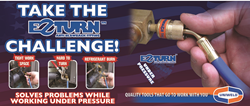 Quality Tools That Go To Work With You!®
New York City, NY (PRWEB) January 14, 2014
The 2014 AHR Expo is quickly approaching and will take place on January 21-23 at the Javits Center. For those that will attend the 2014 AHR Expo, Uniweld will be introducing the new line of EZ Turn™ hoses and invites you to bring your favorite hose to put it to the test in the EZ Turn™ Challenge. Uniweld will have a test bench so that those taking the challenge can experience the ease of use the EZ Turn™ hose offers compared to popular hoses being used today. Attendees will have the opportunity to witness this revolutionary hose and the impact that it will have on the HVAC/R industry. Finally, there will be a truly innovative product introduced at the AHR Expo.
For those that will not be able to attend, check out Uniweld's website for the soon to be released demo video on the EZ Turn™ hose. Also be sure to invite colleagues, friends, and customers to take the EZ Turn™ Challenge when visiting Uniweld's booth (#1231).
Did Someone Say, Giveaway?
Uniweld will be periodically giving away sets of 5 foot EZ Turn™ hoses. Be sure to register at booth #1231 for a chance to take home a free set of these truly innovative EZ Turn™ hoses.