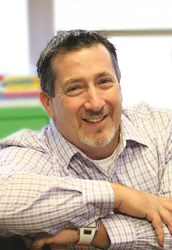 "He's committed to delivering quality work to his clients and is a real team player which is critical to the G/L culture." - Tim Leon, President and Brand Strategist
Saint Louis, Missouri (PRWEB) January 10, 2014
Geile/Leon Marketing Communications announced today it has hired Randy Micheletti as Vice President, Director of Account Service.
A veteran of several St. Louis marketing agencies--including G/L from 1999-2004--Mr. Micheletti has more than 20 years experience as a strategic marketing professional. His areas of expertise include brand management, campaign strategy, marketing promotions, and new product development, for a broad range of national and international brands.
"We're very excited to welcome Randy back to G/L, along with the leadership and wealth of Account Service experience he brings to the table," said Tim Leon, President and Brand Strategist. "He's committed to delivering quality work to his clients and is a real team player which is critical to the G/L culture."
A graduate of Lindenwood University, Mr. Micheletti enjoys coaching baseball in his free time. He has coached at the high school, college and semi-professional level for nearly 20 years, having most recently coached in the St. Louis Amateur Baseball Association.
Based in Clayton, MO, Geile/Leon offers clients an integrated approach to marketing, including brand discovery and development, advertising, social media and online capabilities, sales promotion, public relations and direct marketing. The company has a staff of 20 and had more than $4 million in billings in 2012. Its clients include Lincoln Electric, Hannibal Regional Healthcare System, Branson Convention Center, Intercard, Metro Imaging and Nidec Motor Corporation.