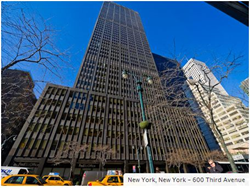 New York, NY (PRWEB) March 19, 2014
Beacon EDI, an expert in EDI automation for small to medium sized businesses, expands to New York by setting up a new branch office. Now, they can more easily train, educate and implement EDI services for clients in the New York area.
While the corporate office remains in San Diego, CA, Beacon EDI recently decided to expand to New York to serve as a local EDI service provider. Their new office will be located at 600 Third Avenue, New York, New York. The building serves as a prime location in Manhattan's Midtown area with close proximity to Grand Central Terminal. It has immediate access to subway lines and is the nerve center for many cultural, economic and entertainment venues within the city.
Many prominent retailers such as Barnes & Noble, Bloomingdale's, Loehmann's, Macy's, and Saks Fifth Avenue have headquarters there and they all require their suppliers to utilize EDI. This allows Beacon EDI to not only provide local assistance, but grow their leadership and reputation in the industry.
Beacon EDI is among the leading companies chosen by clients around the country based on their experience in EDI and supply-chain related roles as they help companies achieve improvements in productivity while reducing errors rates through EDI automation.
About Beacon EDI, Inc.
Beacon EDI was founded in 2012 by industry leaders with a true passion for EDI. Beacon is a privately held EDI (Electronic Data Interchange) Business-To-Business Solutions company with headquarters in San Diego, California. Beacon's target market ranges from the start-up small business with entrepreneurial spirit to a medium-size thriving organizations looking to expand their market share.