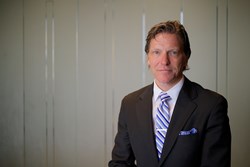 "Dan is a fighter, an investigator, a believer and was the best chance for me... He designed an impressive criminal defense. He vigorously pursued discovery and evidence that ultimately led me to be free."
Irvine, CA (PRWEB) January 09, 2014
Avvo.com, a highly trusted legal advice website devoted to helping the public find answers to tough legal questions and connect with leading attorneys, has recognized Dan E. Chambers with three important awards this past year. These awards come as a well-deserved consequence of Dan's hard work as a criminal defense attorney in Irvine CA and also reflect his high standing among clients and peers alike.
Top Contributor for Criminal Defense 2013
Avvo.com has awarded Dan E. Chambers the title of Top Contributor 2013 for his additions to the site's criminal defense resources. In addition to answering thousands of client questions in all areas of criminal defense law, Dan E. Chambers has also penned three legal guides for the site covering DUI field sobriety tests, bail processes, and Miranda rights. These guides, which help the public to understand the rights and privileges given to them by the law, serve as a valuable addition to Avvo.com's content and definitely support the site's mission of demystifying legal matters for the general public.
Avvo Clients' Choice Award 2013
Given that Dan E. Chambers has an excellent reputation for client satisfaction, it's no surprise that he also holds an Avvo Clients' Choice Award for 2013. The experience of one particular client who stood accused of attempted murder and faced life imprisonment with over $2 million in bail is representative of what clients can expect when working with Dan. After interviewing 16 other attorneys and finding them unsatisfactory, the client settled on Dan as a "Godsend." As the client put it, "Dan is a fighter, an investigator, a believer and was the best chance for me... He designed an impressive criminal defense. He vigorously pursued discovery and evidence that ultimately led me to be free." For case details, please refer to Case I.D. BA417432 in Los Angeles Superior Court.
Perfect 10.0 Avvo.com Rating
Avvo.com uses a sophisticated mathematical model to arrive at a rating for each attorney who creates a profile on their site. This rating is totally unbiased and based on data from multiple sources, including client reviews, peer endorsements, years of experience, professional achievements, and disciplinary history. The fact that Dan has achieved a perfect 10.0 "Superb" rating on Avvo.com serves as a testament to his professionalism and effectiveness in criminal defense matters.
About Dan E Chambers, Los Angeles Criminal Defense Attorney
The founder of Chambers Law Firm, Dan E. Chambers has been in practice for over 20 years. He earned his JD from Southwestern University School of Law in 1991, graduating second in his class. He then served as a Los Angeles County Deputy District Attorney for six years and was in private practice at other firms for approximately 15 years, handling a wide range of highly complex litigation matters. As a criminal defense attorney in Irvine CA, Dan's primary area of practice now involves the representation and defense of individuals and businesses in all types of criminal and administrative matters, in both federal and state court throughout southern California.
9107 Wilshire Boulevard Suite 450
Beverly Hills, CA 90210
Office: 949-246-1475
2600 Michelson Drive Suite 1700
Irvine, CA 92612
Office: 949-852-3540
Fax: 949-852-3501