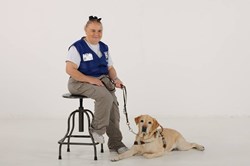 Goodwill gives everyone a chance. They are fair. They saw my ability – not my disability. I have several co-workers with disabilities, and Goodwill gives us all a chance. - Annie, Goodwill Manasota Employee of the Year
Sarasota, FL (PRWEB) January 10, 2014
Stop by the Honore Avenue Goodwill Manasota store and you'll likely see Annie. You'll see her working hard in the apparel department at the retail store – hanging and sorting clothes, and spreading her positive attitude to everyone who crosses her path. You're sure to see all of that and more; however, Annie won't see you. That's because seven years ago, Annie went blind when Glaucoma stole her sight.
Although she's worked hard for most of her life, when Goodwill Manasota in Sarasota, Florida hired Annie last year, it was the first paid job she'd ever held. Prior to coming to work for Goodwill, she spent some time volunteering as a pool monitor, but most of her time over the past 10 years was consumed with taking care of her bedridden aunt, who was dependent on Annie to help her perform everyday tasks – a responsibility Annie took great pride in, and one that is truly impressive given her disability.
For people with disabilities like Annie, searching for employment is difficult. This may be one reason why the unemployment rate among the disabled remains at 14.1 percent, according to the U.S. Department of Labor's Office of Disability Employment Policy.
Assisted by her guide dog, Alex, Annie walks proudly through the Goodwill store where she works, greeting customers and exchanging pleasantries with fellow employees. Her positive attitude and limitless work ethic have made her popular with her co-workers, and she gushes about the friends she's made over the past year.
"I have great co-workers and it's really the people here that make this a great place to work," said Annie, who credits her parents for teaching her the importance of being friendly and keeping a positive attitude.
The Florida Division of Blind Services worked with Goodwill to find Annie her job. For more than 111 years, Goodwill has helped people like Annie navigate the challenges they face when seeking employment, whether they be due to a disability, lack of education or work experience, or other factors -- giving people not a handout, but a hand up. For Annie, the opportunity to work for Goodwill has changed her life.
"I am just so grateful to Goodwill for giving me this opportunity," she said. "It's challenging, but I love a challenge because it shows me what I'm made of."
Annie hasn't let her disability slow her down, hinder her ability to work or prevent her from enjoying normal activities – like taking a cruise with her husband, who is also blind, or attending a Paul McCartney concert, which she recently did. In fact, her optimistic outlook and dedication to her job have inspired her co-workers and demonstrated how an organization can benefit as a whole from hiring disabled workers.
Margaretann "Annie" Villani, along with her guide dog Alex, were named the 2013 Goodwill Employees of the Year.
"In other places, companies might think there's not much that someone with a disability can do, but they have no idea what we can do," said Villani. "Goodwill gives everyone a chance. They are fair. They saw my ability – not my disability. I have several co-workers with disabilities, and Goodwill gives us all a chance," she said.
Goodwill estimates that it will serve more than 15,000 people this year, and it expects that number will grow with additional sponsorships and donations. In addition, it currently employs 150 disabled workers.
"Goodwill exists to create employment and opportunities for those who face challenges. For 40 years, I've come to work because of people like Annie," said Bob Rosinsky, president and CEO of Goodwill Manasota. "Everything we do, we do for you and the community," he added.
Goodwill Manasota is an industry-leading, 501(c)(3), not-for-profit organization that changes lives through the power of work. We accomplish our mission through a network of Good Neighbor Centers in Sarasota, Manatee, Hardee and DeSoto counties and our Mission Development Services (MDS) around North America. For more than 110 years, Goodwill has provided opportunities through such programs as Donated Goods Employment Services, Job Connection, JobsPlus, Supported JobsPlus, Mission Development Services, White Glove Services, Good Neighbor Program and Ambassadors Program. Goodwill continues to assist people with disabilities and barriers to opportunity by changing lives through the power of work. Goodwill Manasota, Inc. is legally organized under the laws of the United States and the State of Florida. We are accountable to a local Board of Directors. Goodwill Manasota in essence belongs to this community, and is NOT owned by any individual or company. For more information, visit EXPERIENCEGOODWILL.ORG.