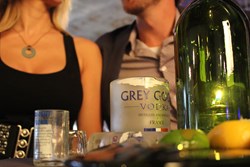 Our excited discovery that your first fling with a bottle or other product doesn't have to be your last was what ignited this now-hot endeavor. - BluMarble co-owner Jennifer Jordan
Las Vegas, Nevada (PRWEB) January 15, 2014
They thought it was gone for good: lost in the haze of the night they first met, just a memory of their lips and fogginess in their minds, destined to be trapped there forever in their safe of secrets. Then out of the blue, there they are—plain as day—they pass while sauntering through downtown Las Vegas: those beautiful curves and sleek hues, re-vamped with even more "va-va-voom" into something they're aching to wrap up in their arms around and take home all over again.
Meet BluMarble. As intriguing an adventure as the name implies, BluMarble is new on the block in downtown Las Vegas. Pristine and provocative as a first kiss, the storefront lures in passersby, where they discover something completely unexpected: bottles and glass, wood and other materials with another story and from another time—remade into stunning pieces of art, home décor, drinking glasses, jewelry and more.
It all began with just a twinkle in the eyes of Jennifer Jordan and Rachel Cohen—professional repurposers who paired up in 2009—and turned into an extended affair that resulted in the now-worldwide love story that is BluMarble. With a full-service manufacturing facility in central Las Vegas (where the spark begins) and a website and presence in boutiques worldwide (where the connections heat up), BluMarble is finally entertaining one-on-one dates with their interests at their brand-new retail store in the Downtown Las Vegas Container Park. There's just something about eye contact—something about this "look and DO touch" environment—that entices to a whole new level.
What makes BluMarble a hot commodity in the very niche market they are in goes far beyond their beauty, and deep down to the core of BluMarble's substance. At the beginning of their journey, BluMarble's materials are rescued from local restaurants, bars, homes, events, hotels and casinos from The Strip and Downtown Las Vegas. Having been dismissed by others as used-up of all their worth and no longer appreciated, BluMarble gives these tossed treasures new purpose. Crafted by hand, using a cold method, which has a much smaller carbon footprint than the traditional hot (i.e. toxic) process. Even items such as barrels, cork tops, boxes and packing materials sent to the BluMarble plant—including pallets—are either repurposed for retail creations or reused as product storage and shelving. So beyond the BluMarble artisans, artwork itself and those falling in love with both, this process is an idea that planet earth and the environmentalists who adore it are also earnestly warming to.
"Our excited discovery that your first fling with a bottle or other product doesn't have to be your last was what ignited this now-hot endeavor," said BluMarble co-owner Jennifer Jordan. "And what's even better is there's such a deep passion on multiple levels involved in this process, that we believe this is a long-lasting affair we look forward to pursuing for a great many years to come."
Want to meet BluMarble? Find them now in-the-flesh at 707 Fremont Street, downtown Las Vegas, or at http://www.BluMarble.com. And if one wants a more personal BluMarble experience, just ask; BluMarble offers unique customizable options to make their treasures completely unique and special.
About BluMarble
An eco-conscious company established in 2013, BluMarble repurposes wine, beer, liquor and soda bottles from restaurants, bars, homes and events in the community. Their handcrafted glass and recycled wood creations also generate local jobs, stimulate local retail economy and help the environment. A reflection of pride in their neighborhood and social responsibility, BluMarble is comprised of local craftsmen and entrepreneurs, who create strikingly sleek, planet-conscious products and who make BluMarble what it is—beautiful, from the inside out. BluMarble has a full-service receiving and manufacturing facility in central Las Vegas, as well as a retail store in the downtown Las Vegas Container Park (707 Fremont Street) open Sun.-Thur., 9 a.m.-9 p.m., and Fri./Sat., 10 a.m.-11 p.m. For more information, visit http://www.BluMarble.com or call 702-823-1441.
For FACT SHEET, visit - http://www.BluMarble.com/media
Facebook: http://www.facebook.com/ShopBluMarble
Twitter: @ShopBluMarble
Pinterest: ShopBluMarble
Instagram: @Blumarble
###
MEDIA CONTACT:
Starr Hall, International Publicist
Agency LEAD
O: 888-942-5599 M: 805-540-9628