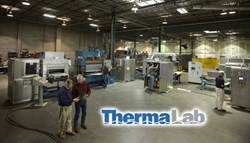 ...ThermaLab will provide valuable, verified answers to many manufacturing, material and process questions.
Louisville, KY (PRWEB) January 13, 2014
Manufacturers in a variety of industries can now turn to Thermex Thermatron LP for enhanced and expanded RF and microwave technology equipment testing. This is thanks to the integration of their all-new ThermaLab, which will allow manufacturers to see how industrial microwave and radio frequency technology will play a practical role in their processes. Thermex Thermatron, LP's ThermaLab consists of a fully dedicated site of multiple forms of microwave and RF machinery, which will be used to test numerous materials and processes for complete evaluation of suitability and manufacturing benefits.
For any manufacturing company interested in how industrial MW or RF technology will actually affect and benefit their current or future processes, ThermaLab will allow them to gain accurate and comprehensive insight prior to in-house equipment purchase and integration. Thermex Thermatron, LP can test industrial drying, curing, preheating, bonding, laminating, heat-sealing welding and other heating processes according to unique and individualized manufacturing criteria. Companies can now gain a definitive picture of how these proven technologies can complete and enhance their specific manufacturing process. Manufacturers across varied industries can make more informed purchasing decisions and invest in RF and industrial microwave equipment with greater peace of mind.
The possibilities of Thermex Thermatron LP's new ThermaLab are especially favorable for those companies that do not yet have microwave or RF technology incorporated into their current process, as well as those manufactures that are seeking improvements to antiquated or non-Thermex Thermatron RF and MW equipment. The ThermaLab will provide valuable, verified answers to many manufacturing, material and process questions. Thermex Thermatron LP is pleased to offer ThermaLab capabilities to companies at little or no cost. Manufacturers can see precisely how their products and materials work with RF and industrial microwave equipment without expensive or time consuming risks.
Companies that are interested in trying the ThermaLab will work directly with Thermex Thermatron LP engineers, who will methodically test and evaluate the viability and benefits of specific equipment with respect to individual processes, materials and products. Thermex Thermatron, LP will also provide detailed equipment specs, recommendations, in-depth studies and process development services to those companies that request them as part of their ThermaLab evaluation.
While Thermex Thermatron LP has long tested materials and processes on behalf of their customers, the new ThermaLab offering is generating considerable excitement in the process-manufacturing arena. "We hope to have several manufacturing companies bring us new challenges in heating and sealing," said Thermex Thermatron LP president and CEO, Ray Lund. "We look forward to testing many new materials as well as helping others upgrade their current means of heating and sealing in production. Once manufacturers in various markets begin to discover new methods using RF and MW technologies, we hope that will encourage others within these industries to upgrade as well."
Any companies or manufacturing bodies interested in RF and industrial microwave equipment testing through Thermex Thermaton, LP's new ThermaLab can contact the company for details directly through their website: http://www.thermex-thermatron.com
About Thermex Thermatron, LP
Thermex Thermatron, LP is a trusted developer and manufacturer of industrial microwave and radio frequency equipment, including batch ovens, generators, presses, heat sealers, welders, and other custom engineered machinery. The company also provides extensive services to help manufacturers through the United States get the most from RF and MW technology.