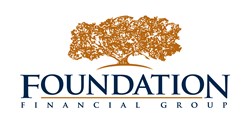 FFG is always focused on helping Americans reach their financial goals. Each new office location becomes an opportunity to take better care of our clients and their families.
Jacksonville, Florida (PRWEB) January 15, 2014
Foundation Financial Group is celebrating its 10 year anniversary in 2014. A decade of service is a significant milestone in FFG's commitment to providing Americans with quality financial products and service.
"Starting your own business is a risky endeavor, especially when you consider that 44 percent of new businesses fail within the first three years," said FFG Co-founder Kris Williams. "We are incredibly proud and thankful to be celebrating ten years of financial services excellence. Every year, we learn and grow even further into the corporation we've always wanted to become."
An unwavering commitment to outstanding customer service is what Williams says made the difference for FFG during the recession. Employees at every level receive continuous training to ensure that clients' expectations are exceeded. The corporation maintains an A+ rating with the Better Business Bureau and regards integrity as a guiding principle.
"Our tenth anniversary celebration would not be possible without the communities that Foundation Financial calls home," said FFG Co-founder Paul Scott. "We have made giving back to our communities a corporate priority. We do not believe in writing a check and calling it a day. Whether we're running through mud to support disease research or playing basketball with foster children, our team members enjoy coming together to volunteer and support those in need."
Foundation Financial Group has invested over $1.7 million in support of its philanthropic initiatives. In an effort to drive intrinsic community improvement, FFG philanthropy focuses on education, health and wellness, sustainability, and workforce development. Foundation Financial hopes to make a lasting difference in the world through its local and national campaigns.
When Williams and Scott started Foundation Financial Group in 2004, the corporation was a mortgage brokerage that helped Americans secure refinance loans. Within a year, FFG transitioned to a mortgage lender and assumed a more direct role in improving the financial situations of its clients. Foundation Financial grew modestly over the next few years by cultivating an industry reputation for integrity that spread by word of mouth.
"We've managed to grow in a very natural and organic way," continued Scott. "FFG is always focused on helping Americans reach their financial goals. Each new office location becomes an opportunity to take better care of our clients and their families. Giving our clients the best possible experience is at the heart of FFG's growth."
Foundation Financial Group continues to diversify and evolve. In 2011, FFG expanded its offerings to include insurance and retirement products. The integration of the corporation's Insurance and Retirement Divisions has enabled Foundation Financial to deliver comprehensive financial expertise and fully service clients' financial needs. In 2012, FFG acquired a premier video production company that specializes in testimonial, live event, and corporate video. The video production team enables FFG to communicate with clients and employees in a contemporary and powerful medium.
"FFG's rise from a small financial upstart to a multibillion dollar corporation is as inspiring as it is humbling," said Williams. "We've accomplished a tremendous amount within our industry and for our communities in one decade, so I am very excited about Foundation Financial Group's next ten years."
About Foundation Financial Group
Foundation Financial Group is a multibillion dollar financial services corporation. FFG offers its customers Best in Class service through its Insurance, Retirement, and Mortgage Services. Named one of the fastest growing financial companies in the country by Inc. Magazine for the third year running, FFG has continued to grow its nationwide presence with over 100,000 new customers per year in 39 states. In addition to the value that Foundation Financial provides every customer, it is also dedicated to its communities and the people who live in them. Through a vast array of philanthropic endeavors, the company not only provides significant monetary donations but also fosters a workforce environment that encourages all team members to personally make a difference. Foundation Financial is committed to its strong focus on customer service and community investment as it continues to grow and compete with the largest financial institutions in the world.
Foundation Financial Group reviews all public relations inquiries. For additional information, interview and image requests, contact the Foundation Financial Group Public Relations Team.