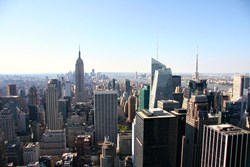 Los Angeles, California (PRWEB) January 09, 2014
England Van Lines, a premier moving service located in Los Angeles but serving the United States in cross country relocation needs for residential and commercial customers, is pleased to announce a new technology that will be in place soon to further assist their customers and offer peace of mind during often stressful relocation ventures. The moving service plans to introduce a mobile push notification system that will synchronize with their GPS-equipped modern fleet of moving haulers. Throughout the duration of a move in transit, customers can request that they be informed of the precise GPS location and estimated time of arrival of their possessions. The company plans to roll out this new mobile push technology during the first quarter of 2014.
"When you are moving, there is already so much on your mind that the stress can be overwhelming at times for people," said company spokesperson, William Alexander. "We got to thinking about methods we could introduce that would help put our customers' minds at ease. The solution was simple: offer GPS-based mobile push updates to their smartphones that apprise the customer of the precise location and estimated arrival time of their possessions."
England Van Lines plans on introducing this technology to their division for New York to help with long distance moving during the first quarter of 2014 to fully test it out before nationwide integration commences. The technology relies upon the already existing technology the moving service has incorporated into their fleet. GPS units are able to email customers regarding time and position of their possessions in transit. In the near future, this same technology will be able to send customers push notifications conveniently to their mobile devices.
"Being able to know exactly where your possessions are and when they are slated to arrive, and via your smartphone nonetheless, is simply a priceless stress-reliever for all people who are moving," Alexander explained.
About
England Van Lines is an industry leader in procuring innovative and user-friendly moving solutions for New York long distance movers as well as interstate, national and international movers around the world. Using innovative approaches, like GPS tracking of their truck fleet and precision location updates via push notification on mobile devices, England Van Lines is dedicated to keeping their customers aware of the transit status of their valued possessions and the estimated arrival time at all times. Learn more by visiting them online at: http://www.englandvanlines.com.
Press Contact:
William Alexander
England Van Lines
(408) 514-5998