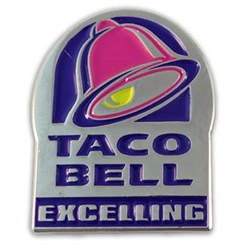 Recognition pins increase morale and even employee retention.
Chicago, IL (PRWEB) January 15, 2014
PinMart is proud to announce it is expanding its relationship with the fast food conglomerate, Taco Bell. For over five years now, PinMart has been responsible for a growing number of Taco Bell's custom pins, awarded to and worn by employees of the chain. These pins denote everything from those who make the "Perfect Taco" (2.9 oz), to new menu items and options.
Employees of the now over 50 franchise stores will often save these custom pins even after a promotion has ended, and will wear their collections to denote their longevity with the company. The pins create have been said to create a culture of pride and studies have shown that the recognition pins increase morale and even increase employee retention.
PinMart creates these custom pins from scratch, with the company's brand in mind. These pieces are exclusive to Taco Bell and in certain circumstances, to the individual franchises. The popularity, however, has been spreading, with both corporate and individually owned stores taking up the custom pin tradition through PinMart, as a way of awarding their dedicated employees and to add a unique angle to their diverse marketing campaign.
About PinMart: PinMart, Inc. is a privately held company located in Mount Prospect Illinois, a suburb of Chicago, specializing in the design and manufacture of custom pins, emblematic jewelry, and employee recognition and motivation items. PinMart sells stock products via its online store and offers custom design and manufacturing. PinMart has taken advantage of its well positioned internet presence and now boasts a client list that includes over 300 of the Fortune 500 companies.