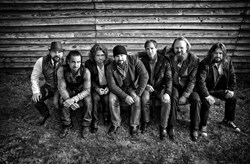 Milwaukee, WI (PRWEB) January 10, 2014
The band's latest project 'The Grohl Sessions Vol. 1' is out now on Southern Ground and follows the band's three platinum-selling albums 'Uncaged', 'You Get What You Give', and 'The Foundation', which have together sold over six million copies and produced a historic series of ten #1 hit singles.
On the road, the group performed for over 1.3 million fans in 2013 with 70+ headline dates and more than a dozen major festival appearances. Zac Brown Band is represented by ROAR, a Beverly Hills-based talent and brand management company. Additional information can be found at http://www.zacbrownband.com/.
Tickets go on sale Friday, January 17 at noon and include Summerfest admission. Tickets can be purchased at the Summerfest Box Office, Ticketmaster Ticket Centers, Walmart stores, online at Ticketmaster.com and by phone at 1.800.745.3000 (live Ticketmaster Agent) or 1.866.448.7849 ("Ticketmaster Express" automated phone line). Patrons may also utilize "ticketfast" at Ticketmaster.com to print barcoded concert tickets from home. Convenience fees may be added to all purchases.
Please Note: To purchase Marcus Amphitheater tickets in person at the Summerfest Box Office on the day of the on sale, patrons must visit the temporary location at the Mid Gate on the corner of Harbor Drive and Chicago Street. Parking will be available across the street.
Summerfest fans get access to "Stay Connected" Pre-sales before tickets go on sale to the general public when they subscribe to receive Summerfest News email alerts at Summerfest.com, "Like" Summerfest on Facebook or follow Summerfest on Twitter. The Zac Brown Band Pre-sale will run Thursday, January 16 from 10:00 am – 10:00 pm CST or until pre-sale inventory has been exhausted.
Summerfest 2014 will take place June 25 - 29 and July 1 - 6 from Noon until Midnight and will be closed Monday, June 30. Following its 1968 debut, Summerfest has evolved into what is now recognized as "The World's Largest Music Festival" and Milwaukee's cornerstone summer celebration, bringing the music industry's hottest stars, emerging talent and local favorites along with approximately 900,000 people from Milwaukee and around the world together each year for an unforgettable live music experience. During the festival, the spotlight shines on over 800 acts, over 1,000 performances, 11 stages, delectable food and beverages and interactive activities, all in a world-class festival setting. Patrons can also enjoy Miller Lite, the Official Beer of Summerfest. For more details, visit Summerfest.com, Facebook.com/summerfest or Twitter: @Summerfest.