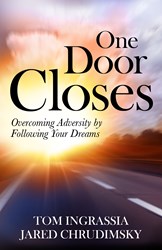 "Have the courage to follow your heart. You WILL find your dream in that place where your mind meets your heart and your soul."
Worcester, MA (PRWEB) January 14, 2014
"Are you prepared to turn life's obstacles into opportunities--and then make those opportunities your own?" ask Tom Ingrassia and Jared Chrudimsky, authors of "One Door Closes: Overcoming Adversity By Following Your Dreams."
"Will 2014 be the year when everything falls into place--just the way you envision it?"
"Do you have a blueprint to get from where you are now to where you want to be in life?"
These are key questions required to clarify, set and achieve goals for 2014, according to the entrepreneurs, coaches and authors.
"Many of us," says Ingrassia, "spend countless hours coaching and encouraging those around you to achieve their goals. But we often neglect own hopes and dreams, aspirations and goals?"
"The best way to make certain that you are satisfied and productive in life is to check in with yourself from time to time to identify what you are most passionate about," adds Chrudimsky.
True dreams are hard to follow, and achieving them is not always easy. In fact, it's never easy. "You have to nurture them. You have to work hard to give them a chance to thrive. You have to persevere against what may--at first glance--appear to be insurmountable obstacles, roadblocks and detours on life's highway," says Ingrassia. But, advise life coach Ingrassia and massage therapist Chrudimsky, "If you believe in yourself, if you believe in your dreams--and if you are willing to take an honest look at yourself and take 100% responsibility for your life, then you will achieve your dreams."
"We practice what we preach," Ingrassia says. "Jared and I are living, breathing proof that dreams DO come true. We are not superheroes. We do not possess any superhuman powers. We are just a couple of ordinary guys who have found the key to living into our dreams and to get what we want in life. Our achievements--especially the success of our book--illustrate the fact that even the most ordinary people CAN achieve extraordinary things in life--IF you have the courage to change, are able to recognize and seize the opportunities that are right in front of you every day, and persevere until you reach your goal--no matter the obstacles. Full speed ahead. Emergency brake off. Speed bumps and all!"
As the saying goes, "when one door closes, a window opens." The key is recognizing the challenge of that closed door as an opportunity to look through the open window and out onto a bright, new future.
"When we met five years ago, we each had our own, successful businesses," says Chrudimsky, owner of Revitalize Massage Therapy in Worcester, MA. "But, we made an instinctive connection--although at the time, we didn't know why the Universe had brought us together. We became friends and professional colleagues. Tom came for a massage every week, and I turned to him for some career coaching. Perhaps most important, though, we became running buddies. I am a life-long runner. But Tom, at age 57, had never run a mile in his life! And now, three years later, he is running marathons!"
It was during an early morning run that the concept for their joint business--Mental Massage--was born. Mental Massage combines Ingrassia's guided visualization exercises with Chrudimsky's therapeutic massage in a transformational, group workshop setting. It was also during one of those 6 AM runs that the concept for their book developed. If Tom, especially, had not had the courage to try something new--to stretch beyond what he thought was his "natural ability"--the two would not have accomplished all that they have in the past four years. And they have never looked back!
One of Ingrassia's favorite quotes comes from Vincent Van Gogh, who said, "I dream my painting, then I paint my dream." According to Ingrassia and Chrudimsky, "In order to get what you want, you have to know what you want. We are constantly presented with great opportunities disguised as unsolvable problems. Opportunities may not always be perfect. But if you don't take them--and make them your own--you may never get a second chance."
The two advise people to take time every day to focus on the things that are important to them. "Spend the time necessary to really clarify your goals and what it will take to achieve them. You may think it is selfish to think abut yourself--putting your own dreams on hold to help someone else achieve theirs. But, if you don't nourish your own soul, you will not be able to help anyone else," says Ingrassia. "Think of it this way," says Chrudimsky. "When you are on a plane, preparing for takeoff and the flight attendant is doing the safety drill--what are you told to do if the oxygen mask drops down? You put it on yourself first. Then you help the person sitting next to you. If you don't have that life-sustaining flow of oxygen going into your lungs, you will not be able to help anyone else on the plane."
Ingrassia adds, "If you are still searching for your dream, don't give up. Maybe you don't have all the answers right now. Maybe it seems like too much of a quest. That's ok. Feel the inspiration we felt during those early morning runs. Take the chance. Never let anyone say that you didn't try. If there is something you have always wanted to do, do it! Step out on faith--deep water faith. What's the worst that can happen? If it doesn't work out exactly as planned...maybe there is a different, bigger plan for you."
"Learn from the turtle. it only makes progress when it sticks its neck out," is a wonderful Native American proverb. "That is our philosophy," say Ingrassia and Chrudimsky. "We share a passion for helping our clients achieve more healthy, balanced and fulfilling lives. That is why the Universe brought us together. It is our purpose. It is why we wrote our book."
"Have the courage to follow your heart," says Ingrassia. "We guarantee that you will find your dream in that place where your mind meets your heart and your soul. Commit to making 2014 the year when you achieve your best, most successful self!"