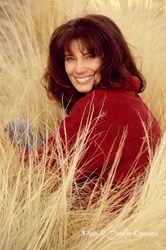 "Debrianna's characterization of Georgia was beyond my expectations." Mark Gordon, writer /director "Awakening in Taos," after Mansini's performance of O'Keeffe.
Santa Fe, NM (PRWEB) January 13, 2014
The year 2013 brought a wealth of work for this New Mexico actor and 2014 is beginning with a bang. After completing the role of Phoebe Smiles in "Drunktown's Finest," actress Debrianna Mansini went into production for a six week run in the lead role of 'Margie' in David Lindsay_Abaire's "Good People", directed by Janet Davidson.
In "Drunktown's Finest," Mansini played one of the very few Caucasian roles (Phoebe Smiles) in this Native American written and directed film. While filming, the production received the notification that Robert Redford would executive produce. By the close of a very successful run of "Good People," she got the news. "Drunktown" was in to the Sundance Film Festival 2014. "It was such a thrill to know we got in to Sundance- to be involved in a such an important film, where my role was a playing a doctor and a mom, a great character written and directed by an extraordinary and talented woman, Sydney Freeland. Then to be playing 'Margie', another strong female character and then on to play the great O'Keeffe. What more could an actor ask for?" The saying goes, 'be careful what you ask for'...right after her last sold out performance of O'Keeffe in "My Faraway One" by Sara Greenough at the O'Keeffe Museum, Mansini was "discovered" by the producers of "Awakening in Taos" and asked to portray the young O'Keeffe for the NM PBS biographical documentary.
"Awakening in Taos" is being produced by an independent Santa Fe based film company headed by an amazing woman in her own right, Kathleen Peters and her partner Mark Gordon. Just the kind of company that fits with Mansini's vision of promoting the roles of women. The film itself explores the story of Mabel Dodge Luhan's transformational life as a writer, salon hostess, art patron and catalyst for change, fostering the way for Modern American Art and culture to evolve into the early twentieth century. "Not only is the story one that needs to be told, it is fundamentally important to continue to pave the way for young men to see strong women as role models. Most people, men and women, i would bet, don't know the importance Mabel had on our art history. It is exciting to be part of this film and this team. What else can I say? Marsha Mason and Ali MacGraw? I feel blessed and my own dedication to my craft is coming to fruition."
Narrated by Ali MacGraw, "Awakening in Taos" features Marsha Mason as the voice of Mabel. Zoe Zimmerman is slated to play the young Mabel and Mansini will portray Georgia O'Keeffe in voice over and on camera dramatic scenes. Gordon says, "We were invited to the Georgia O'Keeffe museum to see Debrianna Mansini perform in a reading of the letters between O'Keeffe and her husband Alfred Stieglitz. My concept of O'Keeffe in our film was based upon documentary films of the artist in her 80's, I really wasn't seeing her as a young woman. Debrianna's characterization of Georgia was beyond my expectations. She portrayed a passionate young woman in her 40's, in love with Stieglitz yet struggling to come to terms with his infidelities. The emotional intelligence she brought to the role was refreshing. She took the artist from the 1920's and 30's and made her a contemporary character sorting through issues as a woman and artist that many women today are just coming to terms with. I could see how Debrianna's interpretation would appeal to contemporary women and make O'Keeffe relevant today. We are proud to include this beautiful, talented young actress in on-camera re-enactments and as a voice characterization in concert with Narrator Ali MacGraw and Marsha Mason as Mebel, whose voices bring the story of Mabel Dodge Luhan to life."
About Debrianna Mansini: Debrianna Mansini (represented by O Agency) is an actress who combines her talent with activism. She is deeply concerned with using the voice of her craft to shed light on women and social justice issues. Her NY roots and training live with her in New Mexico, her enchanted home base, along with her husband, accomplished artist David Forlano. http://www.debriannamansini.com