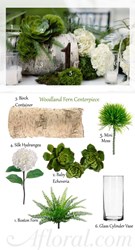 Many brides will be creating their own DIY flowers and decorations; real touch artificial flowers are a great choice for the DIY bride. These DIY wedding decorations created from artificial flowers can be assembled in advance and don't wilt!
Jamestown, NY (PRWEB) January 10, 2014
Top 5 Wedding Trends for 2014
1) A big trend in 2014 will be the DIY (Do It Yourself) wedding. Many brides are looking for budget friendly options and are creating their unique theme look with do-it-your self projects and affordable wedding decorations. From DIY wedding centerpieces to floral bouquets, the DIY bride takes inspiration from website sites like Pinterest and uses the ease of online shopping to create their own preferred wedding look. Creative director from Afloral.com, a top wedding decoration and silk flower online retailer, said "Many brides will be creating their own DIY flowers and decorations; real touch artificial flowers are a great choice for the DIY bride. These DIY wedding bouquets and arrangements created from artificial flowers can be assembled weeks in advance, are often less expensive than fresh cut flowers, and can be kept long after as a reminder of the wedding day."
2) Vintage Vintage Vintage! Vintage will be one of the lead trends in weddings this year with variations on the vintage wedding theme such as Art Deco Wedding, Gatsby Wedding, Old Hollywood Glamor and Heirloom Wedding. Vintage wedding decorations will include focal pieces such as vintage telephones, typewriters, and suitcases. Vintage wedding decorations will also include classic glassware such as vintage vases, mason jars, and vintage plates. Floral arrangements, centerpieces, and bouquets will also reflect vintage influence. Look for dramatic accents such a peacock feathers incorporated into vintage wedding centerpieces and bouquets. Muted romantic floral hues will also be chosen for vintage wedding flowers. Full bloom white and pink roses, dusty miller, peonies and ranunculus, will be top choices for vintage bouquet and arrangements.
3) Rustic Glam. Rustic is a theme that is still hanging on strongly from 2013, but with a new twist. Brides are choosing to glam up their rustic style with the rustic glam wedding theme. Along side soft pinks and sweet greys will be touches of silver sparkle in rustic wedding decorations and attire. Gleaming gold's with accents in attire and rustic wedding decor will be brought in along side muted hues. Couples that love the rustic style will be glamming it up to add the touch of elegance they desire on their wedding day.
4) Woodland Theme. Think fairy tale old growth forest with refined romantic elements.
Woodland weddings will be composed of gowns containing floral accents and vines, flower crowns for the bride, and natural accessories such as wood and ferns in the décor. Green wedding shoes blog features this trend with a DIY floral wreaths containing ferns and sprigs of lavender. Other wedding decorations such as natural wood and birch containers that bring the woodland inside will also be popular.
5) Blue will be a popular color choice for weddings in 2014. Navy blue wedding themes will be combined with off white and soft pinks. Midnight blue with silver will be a big hit as will royal blue and gold. Ice blues and grays will also show up in 2014 weddings. Look for brides wearing blue accents such as blue sashes, blue hair accessories, and of course we will see grooms with blue bows and ties and bridesmaids dresses in shades of blue. Blue flower arrangements and blue bouquets with hydrangeas, coneflowers and blue roses will also be in vogue.
The year 2014 promises to be an exciting time in wedding trends. With more superstitious couples opting to wait out the 2013 year there will be surge in wedding celebrations taking place, providing plenty of opportunities to see these delicious 2014 wedding trends unfold.