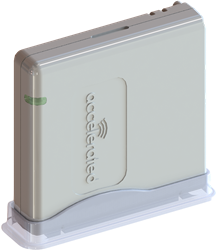 The 5300-DC will give enterprise customers a compact low cost device that will protect their investment in legacy dial equipment.
Tampa, Florida (PRWEB) January 14, 2014
Accelerated Concepts, Inc., a leading provider of wireless network management software platforms and innovative wireless hardware, today announced its new Dial-to-IP™ Converter, the Model 5300-DC. The 5300-DC is the newest product in the company's line of cellular data products.
The Accelerated Concepts 5300-DC is a compact dial termination point designed to work with a variety of legacy dial devices. Our Dial-to-IP™ Converter unit was designed for enterprises, small businesses, and consumers that have a large investment in dial devices and wish to take advantage of the speed and availability of cellular or broadband networks. Today a significant number of appliances are still installed around the world, such as medical devices, postage meters, Financial ATMs, security systems, etc. that depend on a standard analog phone dial connection (POTS). Due to the continual loss of reliable copper-based connections and the overall movement to VoIP-based phone services, modems are more and more difficult to manage and operate. The 5300-DC provides an alternative by emulating the public switched telephone network (PSTN) and handling the dial connection onsite and transmitting the data securely over cellular or broadband networks via secure IP protocols. Unlike previous attempts to use cellular as a replacement for a dial connection which used older circuit switch emulation technology, the unit provides real-time dial capture and termination. The ability to customize the firmware for legacy applications is made simple due to the power of the embedded Linux Operating System.
"In today's environment, owners of legacy analog devices have few cost effective options other than continuing to support outdated modem banks or paying a service provider to manage the modems. The 5300-DC gives them an option of keeping their equipment and taking advantage of the newest technologies available," said Tom Butts, Accelerated Concepts Founder and Chief Technology Officer.
In addition, the 5300-DC can be centrally managed with our cloud-based management portal, Accelerated View™. There are a variety of configuration settings that can be maintained and distributed from a central management location. This allows an enterprise to rapidly distribute and manage a large number of remote locations in a short amount of time. Accelerated View™ also reports on the status of the remote units and generates alerts based on various criteria, such as when a unit has failed to check in at a specific time.
The 5300-DC supports an embedded mini PCI Express module/modem for cellular operation and allows the unit to support a variety of cellular carriers around the world. The 5300-DC also provides an Ethernet (RJ45) port to support broadband connectivity.
"We are very excited about the introduction of our newest product in the specialized cellular area. This will give our enterprise customers a low cost device that will protect their investment in legacy dial equipment, such as ATM's, postage meters, etc. That combined with our cloud-based management portal gives our users the ability to convert a site from old fashioned dial to modern cellular or broadband quickly and easily", said Jason Dorough, Accelerated Concepts Vice President of Sales.
The 5300-DC will be available First Quarter 2014
About Accelerated Concepts, Inc.
Accelerated Concepts, Inc. is a global provider of VPN and wireless hardware and management software. With locations in Tampa, Florida, and Brisbane, Australia, Accelerated Concepts was founded in 2006 with the creation of our flagship product: NetBridge. The company has since added to its offerings to include cellular data hardware, network management software and virtual private network (VPN) technology.