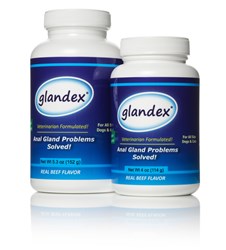 "I have been dispensing Glandex to my patients for about 6 months now. Most, if not all of these clients are reporting an improvement in their dog's anal gland condition. Now many dogs have Glandex to thank for their happiness!" Dr. Louis Calabre
Lisle, IL (PRWEB) January 10, 2014
Glandex® is quickly gaining favor in the pet community and amongst veterinarians for helping dogs with a very frustrating problem. The problem for many dogs is their anal glands, two small glands located at the base of the anal opening. The anal glands are supposed to empty every time the pet defecates for scent marking purposes but for many dogs their anal glands don't function properly and the result can be very uncomfortable for the pet and extremely frustrating for the pet owner.
The hallmark symptom for dogs with anal gland problems is "scooting" or dragging the rear end on the ground, and while this may appear funny to the average person the situation loses its humor when it's happening on a person's living room carpet. Glandex is the only supplement specifically designed to address all of the underlying causes of anal gland problems and promises to "boot the scoot".
Containing a blend of all-natural ingredients, Glandex works by increasing fecal bulk to help dogs naturally empty their anal glands when they defecate and also contains key ingredients to target the underlying inflammation and allergies that trigger anal gland problems. This all comes as very good news to dog owners who typically have to take their pet in every 2-4 weeks to the vet to have the anal glands expressed and who are used to dealing with the horrible odor that the anal glands leave behind. Dog owners will also be pleased to know that Glandex comes as an easy to use once a day powder that is made from pure beef liver. Most dogs readily eat Glandex simply sprinkled on top of the food which eliminates the hassle that many pet owners go through trying to medicate their dog. Glandex is currently available from both online and traditional retailers throughout the country as is also carried by many veterinarians and groomers.
For more information you can visit their website at http://www.glandex.com or call 800-643-7558.