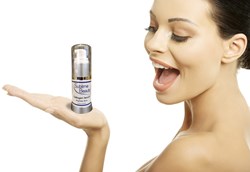 Even if we care for our skin properly, we will see wrinkles as we age. Why? Loss of collagen.
St. Petersburg, FL (PRWEB) January 10, 2014
Loss of collagen in our skin as we age is a contributing factor to wrinkles, sagging and thinning of skin. By age 60, skin has lost almost 45% of its collagen.
"Even if we care for our skin carefully, eat correctly and use sunscreen, we still see wrinkles as we age," says Kathy Heshelow, founder of Sublime Beauty®. "Why? Because we naturally lose collagen each year, more so from about age 40 to 60 and older."
Boosting collagen production is key to turning back the clock and making an impact. Just adding the ingredient collagen doesn't work, as it won't "stick" or stay. Telling the skin to product more collagen is the secret.
The Sublime Beauty® Collagen Peptide Serum does just that.
"The serum is light, airy and absorbs well. Matrixyl® is a key ingredient that boosts collagen," says Heshelow.
Matrixyl® was recently the subject of a paper by Chemist Ian Hamley at Reading University and discussed in the British press.
All Sublime Beauty® products are sold on Amazon with secure checkout and fast shipping. A new Sublime Beauty® Amazon webstore will be opening later this month as well.