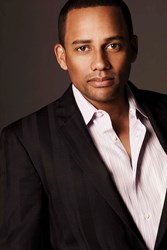 This prayer breakfast is a 20-year tradition for Charlotteans from every race.
Charlotte, NC (PRWEB) January 14, 2014
The YMCA of Greater Charlotte will welcome nearly 2000 people to its 20th Annual MLK Holiday Prayer Breakfast at the Charlotte Convention Center's Crown Ballroom on Monday, January 20 at 8:00 a.m.
The keynote speaker for this year's breakfast is accomplished actor, role model and author Hill Harper. Best known for his role as Dr. Sheldon Hawkes on CSI: NY, Harper is also a graduate of Harvard Law School and the author of New York Times best seller Letters to a Young Brother: Manifest Your Destiny.
As a special gift to the City of Charlotte and in honor of the event's 20th year, the YMCA will show a video titled DREAM Charlotte: A Tribute from the Voices of Charlotte's Living Generations. The video features a five minute excerpt of King's famous "I Have a Dream" speech which he delivered during the March on Washingtonin 1963. The lines of the speech are recited by local children and adults who have created positive change in our community. Notable participants include philanthropists Russell and Sally Robinson, former mayors Harvey Gantt and Richard Vinroot, Carolina Panthers wide receiver Steve Smith and head of the Federal Housing Finance Agency Mel Watt as well as individuals who took part in local civil rights efforts in the 1960s such as Sarah Stevenson, James Ferguson and Charles Jones.
For the past two years, the YMCA has partnered with the City of Charlotte MLK Planning committee in an effort to create a significant observance of the King Holiday. During the breakfast, the City of Charlotte will present its prestigious Martin Luther King Jr. Medallion Award and Charlotte Mecklenburg Schools will also recognize scholarship winners of the annual Martin Luther King Jr. Art & Essay Writing Contest.
Proceeds from the YMCA's Annual Martin Luther King Jr. Prayer Breakfast will provide life-transforming programs for children at the McCrorey Family YMCA and provide teens the opportunity to participate in the Y Achievers program. Founded in 1936 as an African-American YMCA in a segregated nation, the McCrorey YMCA provided opportunities for spiritual growth, learning and leadership development for the black community in Charlotte.
"This prayer breakfast is a 20-year tradition for Charlotteans from every race, belief, age and income level," says Karen Gipson, McCrorey YMCA executive director. "We look forward to celebrating this milestone and look forward to many years to come."
Doors open at 7:15 AM. The program begins at 8:00 AM and is expected to end at 9:30 AM. Tickets are on sale now at EZ-Tixx.com.