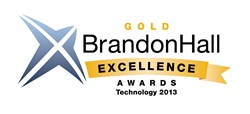 We are thrilled to be recognized by Brandon Hall and their esteemed panel of judges for the fifth consecutive year for our CellCast Solution platform for enterprise mobile learning and truly excited to receive our first award for our Gamification Engine.
Savannah, GA (PRWEB) January 10, 2014
OnPoint's winning entry in the "Best Advance in Mobile Learning Technology" category showcased its CellCast Solution version 5.3, earning a gold designation for the fifth straight year in the category. OnPoint's 2013 entry built on previous advances in enterprise mobile learning content creation, delivery, customization and securitization services to popular smartphones, tablets, eBook readers and other intelligent devices used by workers across industries and around the globe. OnPoint's second gold award was in the "Best Advance in Gaming or Simulation" category for the OnPoint Gamification Engine, an add-on module to the OnPoint Learning & Performance Suite and CellCast Solution platforms. Gamification features, available to both online and mobile learners, include the ability to earn points and badges for completion of training content, classroom training and/or webinar events, as well as participation in discussion forums and even for uploading user-generated content that can be viewed and approved by managers. Leaderboards allow players to see how they are progressing compared to their peers and even challenge individuals directly in more social one-on-one competitions. In addition to the increased level of learner participation seen by customers who enable gamification features, one of the most appealing aspects of OnPoint's Gamification Engine is the ease with which games are defined, deployed and managed by administrators without additional and often expensive programming efforts.
A panel of veteran, independent senior judges evaluated the entries along with Brandon Hall Group's industry expert analysts and leadership. Rachel Cooke, Chief Operating Officer of Brandon Hall Group who runs the awards program, stated, "With the innovation and unique differentiators demonstrated in this year's entries, it is easy to see why these organizations are tremendously successful."
"We are thrilled to be recognized by Brandon Hall and their esteemed panel of judges for the fifth consecutive year for our CellCast Solution platform for enterprise mobile learning and truly excited to receive our first award for our Gamification Engine," said Katherine Guest, Chief Marketing Officer for OnPoint Digital. "We thank the judges for their time and efforts to consider all the entries and for the validation these recognitions give our company in the pursuit of new innovations for the learning market."
About OnPoint Digital, Inc.
OnPoint Digital, Inc. is a leading learning solutions provider dedicated to the development of powerful yet affordably priced online and mobile learning tools for the enterprise.
OnPoint's CellCast Solution for mobile learning enables organizations to create, deliver and track content deployed to smartphones and tablet devices. Learners use device-specific CellCast Apps to download content (HTML, Video, Audio, PPT, ePub, etc.) including tests/surveys with completion detail and test results fully tracked. Available Apps span all the popular device platforms: iPhone®, iPad®, Windows Phone®, BlackBerry® and Android®. Advanced features include messaging, search, social media, learning paths, user-generated content, gamification and security.
OnPoint also offers a full-featured Learning Management System software suite for the creation and management of rich-media courseware, assessments, skill tracking and reporting, with numerous options including document management, e-commerce, localization, Single Sign-on and gamification modules.
About Brandon Hall Group
Having worked with more than 10,000 clients globally and after 20 years of delivering world-class solutions, Brandon Hall Group is the most well-known and established research organization in the performance improvement industry. We conduct research that drives performance, and provides strategic insights for executives and practitioners responsible for growth and business results.
Brandon Hall Group has an extensive repository of thought leadership, research and expertise in Learning and Development, Talent Management, Leadership Development, Talent Acquisition and Human Resources. At the core of our offerings is a Membership Program that Empowers Excellence Through Content, Collaboration and Community. Our members have access to research that helps them make the right decisions about people, processes, and systems, combined with research-powered advisory services customized to their needs. (http://www.brandonhall.com)
Copyright (c) 2014 OnPoint Digital, Inc. All rights reserved.
Android is a registered trademark of Google Inc.
Apple, the Apple logo, Mac, Mac OS, Macintosh, iPod and iPhone are trademarks of Apple.
The BlackBerry and RIM families of related marks, images and symbols are the exclusive properties and trademarks of Research In Motion Limited.
Windows Phone is a registered trademark of Microsoft Corporation in the United States and/or other countries.
Other company and product names may be trademarks of their respective owners.