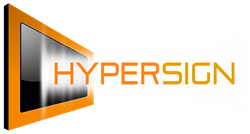 "...our software can improve security and communication inside school systems nationwide." - Neil Willis, Hypersign
Greenville, Spartanburg (PRWEB) January 16, 2014
Hypersign, Avionex's award-winning digital signage service, has been accepted into USAC's School and Library E-rate funding program. Hypersign's service will be placed under the program's Priority One section, designed specifically for telecommunication and internet access services.
The E-rate federal funding program for School's and Libraries is a part of the UniversalService Administrative Company. USAC is a non-profit organization ordained by the Federal Communications Commission to oversee the universal service fund.
Neil Willis, CEO of Hypersign, says, "We are all very excited about being involved in the Federal E-Rate program. We believe our software can improve security and communication inside school systems nationwide."
Hypersign Software is an award winning software product development company focusing on building products that improves the lives of people. The Hypersign product is known for its incredibly intuitive interface making it the perfect digital signage solution for education (K12 and higher ed) and healthcare.