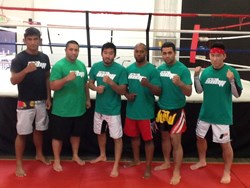 "Its the right next step for both of them."Aungla NSang, Professional Fighter
Elkridge, MD (PRWEB) January 10, 2014
Two kickboxing students from Crazy 88, a Howard County martial arts gym, are set to compete in kickboxing bouts in the Stellar Fights 20 event.
Sophia Baratta (0-0) will be making her amateur kickboxing debut against Brigitte Narcise (0-0), also a rookie to kickboxing. Despite her inexperience in striking, Narcisse is a veteran of grappling tournaments and trains out of K-Dojo in New Jersey. The bout will be contested at 135 lbs.
Donnie Nickerson (0-0) will face off against TJ Trant (0-1-1) from Ground Control Gym. This will be Nickerson's first sanctioned bout although he has competed in No-Winner "Smoker" fights before. The match will take place at 135 lbs.
Professional Mixed Martial Arts fighter and Crazy 88 coach, Aungla NSang believes that the time is right for both students to jump into the ring for their first competition.
"You really learn a lot from stepping into the ring and competing. Both Sophia and Donnie have been training regularly and now they get to put their skills to the test. Its the right next step for both of them."
Stellar Fights runs amateur Mixed Martial Arts and Kickboxing events out of Delaware. Because events often include both MMA and Kickboxing, all the action takes place in a cage ala UFC rather than a regular boxing ring.
Find out more information on their website: http://www.StellarFights.com.
Crazy 88 trains both fighters and casual students, adults and children, in Brazilian Jiu Jitsu, Muay Thai Kickboxing, and Mixed Martial Arts. Gyms are located in Howard County, Baltimore County, and Frederick County. For more information about their programs or their 30 Day Free trial for prospective students, please visit http://www.WholeMonthFree.com.