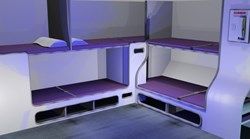 Seattle, Washington (PRWEB) January 11, 2014
TTF Aerospace, a leading manufacturer of Aircraft Crew Rest Modules, has become the first Crew Rest Manufacturer to achieve in-service compliance with its Bulk Cargo Crew Rest on a major US carrier for FAA Advisory Circular, AC117-1 FDP by the January 4th deadline. The Bulk Cargo Crew Rest (BCCR) houses up to 8 crew members in a fully self-contained module located in the aft cargo compartment of the Airbus A330-200/-300 aircraft.
On January 4, 2014, FAA Advisory Circular, AC117-1, went into effect. This is the first major revision of the flight limitation regulations in 60 years. This new rule is science-based and introduces several new concepts such as Flight Duty Period (FDP), fatigue Risk Management System (FRMS), augmentation limits based on the quality of the on-board crew rest facility and increased rest requirements.
TTF Aerospace Crew Rest Modules provide solutions to address the Class I requirements of AC117-1. In today's market, airlines are maximizing flight duration in order to make every seat count. TTF Aerospace offers both main deck and lower lobe crew rest solutions to maximize Revenue per Available Seat Miles (RASM) while using the latest in lightweight materials, safety systems and LED lighting to achieve a lighter, more comfortable, more energy and space-efficient Crew Rest Module.
TTF Aerospace, established in 1999, manufactures Galleys, Lavatories, Crew Rests, Stow Bins, Closets and many other aircraft interior components in their new state of the art, 70,000 sq ft manufacturing facility. TTF Aerospace holds numerous STCs and several patents for designs and components, and continues to develop new unique, quality products, as evidenced by a Crystal Cabin Award in 2012 for the new T-SkinTM finish surface liner. Visit http://www.ttfaero.com for more information on their products and services.