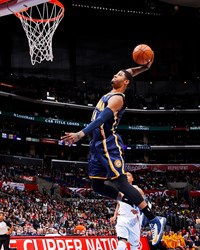 Denver, Colorado (PRWEB) January 10, 2014
It's almost midway through the 82-game NBA regular season. As the top – and bottom – level teams begin to emerge, so do ticket sales for the contenders, pretenders and dead-enders.
According to Marta Ault at BuyAnySeat.com, the top ticket sellers aren't always the top winning teams. For example, this week's top ranked squads are, in order of rank, the Indiana Pacers at 28-6, Miami Heat at 27-8, Oklahoma Thunder at 27-8, Golden State Warriors at 24-13, and San Antonio Spurs at 28-8.
The top ticket sellers however are the lowly 24th-ranked New York Knicks at 12-22 and 19th Brooklyn Nets at 13-21. Other top sellers include the 8th-ranked Houston Rockets at 22-13, 12th Toronto Raptors at 16-17, 2nd Miami Heat, 7th Los Angeles Clippers at 24-13; 14th Denver Nuggets at 17-17, 4th Golden State Warriors and 13th-ranked Minnesota Timberwolves at 16-17.
"Both of the New York teams, the Knicks and the Nets, have spent big money on the talent they need to win, and fans continue to remain patient and loyal. Meanwhile, other time-tested teams such as the Pacers, Heat, Spurs, Trailblazers, Rockets and Suns continue to deliver," stated Ault.
"The Thunder, Warriors and Clippers fans on the other hand are thrilled with this year's record so far and hopeful for a playoff spot. That's why we're proud to offer fans the most comprehensive and continuously updated selection of sports tickets online, with a worry-free guarantee to protect their purchase.
"To access the full line-up of NBA Basketball tickets now available, customers can go to BuyAnySeat.com and click on the NBA Basketball sports header to select their team and their tickets," added Ault.
The implacable Pacers lost by double-digits to the upstart Raptors last week, and nearly blew a big fourth-quarter lead against a short-handed Cavaliers squad. But that wasn't enough to drop Indiana in the rankings.
Meanwhile, the Heat were in danger of losing two straight games at home for the first time all season when the Raptors went up by nine in the third quarter last Sunday. But as they often do, the two-time defending champs did what they needed to do to win.
Twelve games were played last night, which naturally will affect next week's power rankings. NBA games tonight include Brooklyn at Toronto, Houston at Washington, Phoenix at Detroit, New York at Philadelphia, Charlotte at Chicago, Milwaukee at Oklahoma City, New Orleans at Dallas, Orlando at Denver, and Boston at Portland.
To shop for NBA Basketball tickets, visit BuyAnySeat.com.
About BuyAnySeat.com: An online ticket marketplace, BuyAnySeat.com connects sports, theater and other live entertainment fans to an extensive network of ticket sellers worldwide. The site's simplified listings and navigational tools enable shoppers to easily locate, compare and purchase inexpensive, discounted or lower-priced tickets to virtually all advertised sports and entertainment events around the globe.
The ticket marketplace, which is PCI-compliant and Norton Secured, also provides customers with a complete Worry-Free Guarantee on all ticket purchases. Based in Denver, Colorado, BuyAnySeat.com is a subsidiary of Denver Media Holdings. For more information, please visit http://buyanyseat.com.