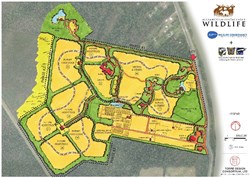 'With this partnership, we break new ground – both literally and figuratively,' said Audubon Nature Institute President and CEO Ron Forman
(PRWEB) January 10, 2014
Officials from Audubon Nature Institute and San Diego Zoo Global took the first steps today in building a breeding center for rare and endangered species. Scooping shovels of dirt, dignitaries including New Orleans City Council Members Jackie Clarkson and Kristin Palmer and State Representatives Bryan Adams, Ebony Woodruff and Christopher Leopold joined Audubon Nature Institute President and CEO, Ron Forman and San Diego Global President, Douglas G. Myers to break ground at the site that will house the Alliance for Sustainable Wildlife.
The innovative breeding program will devise strategies to ensure sustainable populations of unique and endangered zoo animals. The Alliance will be a haven for more than two dozen endangered and threatened mammal and bird species, including giraffe, okapi, bongos, flamingos, storks and pelicans.
"With this partnership, we break new ground – both literally and figuratively," said Audubon Nature Institute President and CEO Ron Forman. "These facilities, which will breed an important collection of declining species, symbolize how the alliance between Audubon Nature Institute and the San Diego Zoo creates a new model for collaboration, accelerating our efforts on behalf of wildlife conservation."
Audubon Nature Institute and San Diego Zoo Global will begin construction on the 1,000-acre Alliance for Sustainable Wildlife in the Freeport-McMoRan Audubon Species Survival Center on New Orleans' West Bank in March 2014. The Alliance will establish a one-of-a-kind resource for zoos and aquariums to rebuild animal collections that are in danger of disappearing.
"We are in a critical era where species are disappearing almost every day." said Douglas G. Myers, President of San Diego Zoo Global. "It is our hope that the leadership we show today in joining together to combat extinction will start a trend that will continue around the world until all species have been preserved for future generations."
As currently planned, the project will be built in four phases over the next four years with the first animals arriving in October 2014. Initial construction will largely involve fence installation, road building and new barns for giraffe and okapi. The animals will enjoy room to roam in large open areas designed to showcase the natural setting.
The Alliance is a once-in-a-lifetime opportunity to transform the zoo and aquarium industry by ensuring that the animals that instill a lifelong appreciation for wildlife and conservation today will engage and inspire future generations of visitors. Officials hope to begin moving herds of animals into the site in early Fall 2014.
Audubon Nature Institute
Audubon Nature Institute is a 501(c)3 not for profit that operates a family of museums and parks dedicated to nature. These New Orleans facilities include: Audubon Park, Audubon Zoo, Woldenberg Riverfront Park, Audubon Aquarium of the Americas, Freeport-McMoRan Audubon Species Survival Center, Entergy IMAX® Theatre, Audubon Center for Research of Endangered Species, Audubon Wilderness Park, Audubon Butterfly Garden and Insectarium and Audubon Nature Institute Foundation. Ron Forman is President and CEO of Audubon Nature Institute. Visit AudubonInstitute.org for more information.
San Diego Zoo Global Wildlife Conservancy
The San Diego Zoo Global Wildlife Conservancy is dedicated to bringing endangered species back from the brink of extinction. The work of the Conservancy includes onsite wildlife conservation efforts (representing both plants and animals) at the San Diego Zoo, San Diego Zoo Safari Park, San Diego Zoo Institute for Conservation Research, and international field programs in more than 35 countries. In addition, San Diego Zoo Global manages the Anne and Kenneth Griffin Reptile Conservation Center, the Frozen ZooTM, Native Seed Gene Bank, the Keauhou and Maui Hawaii Endangered Bird Conservation Centers, the San Clemente Loggerhead Shrike Breeding Facility, the Cocha Cashu Biological Research Station, the Desert Tortoise Conservation Center, and a 800-acre biodiversity reserve adjacent to the San Diego Zoo Safari Park. The important conservation and science work of these entities is supported in part by The Foundation of the Zoological Society of San Diego.
For images and video visit: https://sandiegozoo.box.com/s/a5atu8q02utie3nzutni.