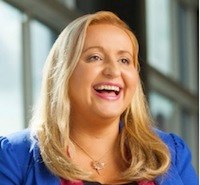 Find out what the social revolution means for business and how we can better 'deliver' via cultural transformation, organizational agility and responsiveness
Plainfield, IL (PRWEB) February 04, 2014
SharePoint-Videos.com, provider of online SharePoint training, education and consulting will host an online class, "Making Social Enterprise Real in your organizations with Yammer and SharePoint." The course will be held on Thursday, February 13, 2014 from 11 am - 3 pm EST.
This is a jam-packed class with real world information and demonstrations taught by social business systems expert Naomi Moneypenny. Naomi is the Chief Technology Officer at Synxi (a ManyWorlds brand) where she leads the development team for the adaptive recommendations & machine learning engine for SharePoint and other social business systems such as Yammer.
In this class, Moneypenny will dive deep into what it takes to make social collaboration a reality for your company. She'll talk about business benefits, constructing use cases and key metrics for your network's maturity, discuss the nuts and bolts of SharePoint integration, administration and making it all accessible to users.
Course Outline:

The Benefits of Enterprise Social
How to take advantage of Yammer and drive results in your organization
Effective Configuration and Administration
How Does Yammer Integrate into SharePoint 2010, 2013, Office365?
Making It Easy to Access
and much more…
Register Now for the online training class. Seats are limited and often sell out quickly.
Asif Rehmani, President of Sharepoint-Videos, explains, "We've created these online training classes as a way to provide quality classroom training to SharePoint users across the globe without them incurring the comparatively high cost of physically attending a conference or workshop."
For more information email info(at)sharepointElearning(dot)com or call 630-786-7026.
About Sharepoint-Videos.com (Rehmani Consulting, Inc.)
SharePoint-Videos.com (SPVideos) focuses on empowering information workers, technical decision makers, administrators and developers in corporate environments with the SharePoint knowledge they need to be successful. SPVideos is the creator of the VisualSP™ SharePoint Help System which provides in-context technical training delivered to users through a Help tab in the SharePoint ribbon. There are also hundreds of video tutorials, online classes, and consulting services available on the website to assist SharePoint users in building powerful solutions while using the SharePoint platform effectively. http://www.SharePoint-Videos.com