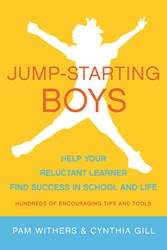 Offers solid information for parents of boys. —Publishers Weekly
(PRWEB) January 10, 2014
Scouting Magazine, the official publication of Boy Scouts of America, interviewed Pam Withers and Cynthia Gill on ways to help kids unplug and build brain power away from television. As authors of Jump-Starting Boys: Help Your Reluctant Learner Find Success in School and Life, Withers and Gill are committed to sharing their knowledge of how to motivate and communicate with young boys.
Gill suggests that parents should offer appealing alternatives to screen time. She says that, "when TV time ends, you have to do more than just push the power button."
To encourage a routine pattern of unplugging, "Withers recommends establishing designated blackout periods when no one in the family uses electronic devices." Parents should also model having time away from television and other electronics, and be honest with their children about how hard it can be to step away.
What People Are Saying About Jump-Starting Boys (also in audio):
"I recommend this to all parents of boys, especially moms."
—Griffin's Honey
"Absolutely and utterly intriguing […] it has given me some terrific skills that i want to use with my own son."
—Pat Thurston, KGO-AM/San Francisco
Positive Solutions To Get Boys Back on Track
It is no secret boys are falling behind in education, with fewer young men graduating from high school and enrolling in college every year. Filled with reassurance and support, Jump-Starting Boys has heart-warming true stories, take-action checklists and over 200 helpful tips. Educators and mothers themselves, authors Pam Withers and Cynthia Gill, MA, LMFT, turn fear and guilt into can-do confidence through easy techniques and achievable solutions. Finally, a book that truly targets concerned parents and helps you work with sons to make sure they beat the odds and become lifelong learners!
During her 30-year career as a high school teacher, CYNTHIA GILL worked on innovative curricula development and served as an academic dean while winning acclaim for her work in the classroom. She lives in Minneapolis. PAM WITHERS is the best-selling, award-nominated author of more than a dozen adventure novels. She lives in Vancouver.