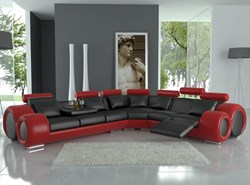 Modern Furniture Store Los Angeles
Los Angeles, CA (PRWEB) January 23, 2014
With much of the company's focus on modern living room collections, platform beds and other bedroom furnishings, along with dining collections, accessories and outdoor furniture, efforts continue to further expand partnerships to offer its customers an even greater variety. It also means great partnerships with some of the most recognized names in the residential furniture market, such as GFI.
GFI is an American company with more than 2 million sq. feet of technologically advanced manufacturing space. Located in Dallas, Tex., this company rose quickly as a heavy hitter in the modern residential home furnishings sector and continues to expand its base. "This partnership allows us to offer our customers an even more versatile playing field, one that includes those popular and stylish contemporary elements such as chrome and leather," said a spokeswoman with DA Stores. "It's just another fantastic way we deliver to our customers the quality, style and affordability they've come to expect from DA Stores."
With furniture sales growing by more than 8 percent in 2012, the largest increase in a decade, the demand is rebounding as more consumers begin to settle into an economy that doesn't have the burden of a recession. Home sales are improving and those homeowners are looking for "great furniture at costs that won't mean they lose sleep," explained the spokeswoman. "We're proud of what we've been able to accomplish and look forward to continually growing both our customer base and our partnerships."
Consumers are invited to visit the digital catalog and explore the many options GFI presents. They may also learn more about DA Stores, its business model and other offerings. See for yourself the type of modern home furnishings Los Angeles shoppers have enjoyed for years.