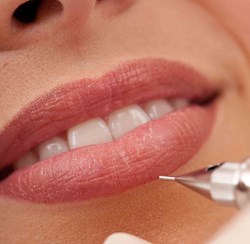 Splurge on that Special Lady with the Gift of a Perpetually Perfect Pout!
Beverly Hills, CA (PRWEB) January 31, 2014
Valentines Day is fast approaching and chocolates and flowers are old hat. What gifts are best to give the woman who already has everything? This year, splurge on that special lady with a Perpetually Perfect Pout.
Long-Time-Liner USA Inc. is the leading service provider of semi-permanent makeup for eyebrow, eyeliner, and lips. The results last form 1 to 3 years on average. Clients are able to change their look with color, shape and definition.
Most women aren't blessed with luscious Angelina Jolie lips, but if they were given the opportunity to plump up their natural lips, most would be happy to take it. While fillers and collagen can acheive a full, inflated look, bigger isn't always better. Many times, the outcome is overly done and obvious. Long-Time-Liner's Conture Makeup is a better solution to skinny smackers.
Highly-trained technicians first create a lip drawing on the clients face to show the possible outcomes of the Conture Makeup. Removable lip pencils are used to define, and flush the lips with a healthy, natural looking color. The professionals can even create a fuller and more symmetrical lip for each individual client based on her desires.
The procedure generally takes an hour or less and results are immediate. The client will leave feeling renewed and instantly more attractive with her new, beautiful lip shape and color. The new look will last for months or years to come.
Gift Certificates are available through Long-Time-Liner's salon in Beverly Hills. A special deal from now till February 14th is a Gift with Purchase.
Give her the gift of a beautiful, vibrant smile that she will use and share everyday of the year.
Long-Time-Liner® is located in Beverly Hills California, at the heart of the beauty and luxury product center. There have been many beautiful and satisfied customers from all age groups, nationalities and personal style. Semi-Permanent Conture® Make-up can make a significant improvement to anyone's beauty. Contact the salon for more information and to book a consultation.