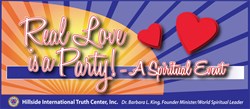 Spiritual Love Lessons in a pre-Valentine's Day event.
Atlanta, GA (PRWEB) January 16, 2014
A one-of-a-kind event on February 7, 2014 at Atlanta's renowned Hillside International Truth Center, beginning at 7:00 p.m., helps people know that real love in a relationship doesn't have to hurt; isn't full of pain and suffering; doesn't have to cost one partner more than it does the other; doesn't smother nor eat its young. Real Love is a Party – In fact, it's a Spiritual Event.
The event is designed to teach spiritual love lessons to singles and couples:

How to love yourself
How to meet new people
How to find or attract a mate
How to strengthen an existing relationship
How to resolve conflicts with communication
Dr. Barbara L. King, Hillside's Founder Minister/World Spiritual Leader, leads the affair with a general session at 7:00 p.m. in Hillside's famous Sanctuary-in-the-Round.
Relationship expert, Dr. Alduan Tartt – known as the "People's Doc", will conduct a workshop with the couples on keeping it "together" in a relationship.
Singles in the audience will go with the "relationship doctor" - noted author and psychologist - Dr. Janet Page, to work through the intricate dynamics of finding a mate in 365 days.
Everyone comes back together with Dr. Barbara King for "Learning to Love Yourself Before You Can Truly Love Someone Else."
Then it's off to the plush Atlanta Airport Marriott Hotel from 10:00 pm - 2:00 am to mix and mingle and celebrate the joy of living whether single or coupled. WCLK Radio's popular personality, Morris Baxter, hosts the celebration which includes performances by Atlanta's own, world-renowned, Theresa Hightower, with the Mose Davis Trio and vocal recording artist, Leonard Julien; jazz trumpet soloist, Joey Sommerville; and music throughout the evening by DJ Ro (Roosevelt Ross).
Tickets for "Real Love Is a Party – A Spiritual Event" may be purchased online at http://www.HillsideInternational.org/reallove. Ticket includes admission to workshops at Hillside and admission to the "mix and mingle" with refreshments at the hotel.
Those choosing to spend the night at the hotel will have specially discounted room rates for the event.
Hillside International Truth Center, Inc. - Dr. Barbara King - is a "New Thought" institution dedicated to transforming and healing lives by demonstrating the teachings of Jesus the Christ for over 42 years. Hillside is open to all people regardless of religious affiliation, age, race, gender, sexual preference, or any other label. Hillside's famous 1200-seat Sanctuary-In-the-Round is located at 2450 Cascade Rd. SW, Atlanta, GA 30311. Telephone: 404-758-6811; Email: info(at)hillsidechapel(dot)org.