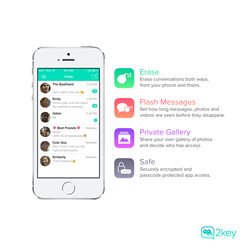 "The freedom to express anything privately without the risk of it being shared with third parties"
New York, NY (PRWEB) January 14, 2014
2key is the new private chat app that stops cyber hackers, bullies and predators from accessing identities and conversations. Unlike social networking and other messaging apps, sharing messages, photos and videos on 2key stays private. Users can remain anonymous, delete entire conversations and connections from both phones, and never be contacted by strangers or have their information leaked.
"Be safe, not sorry," explains Hila Alha, the Sydney-based founder of 2key. "We wanted to create a fun all-in-one messaging app that gives people the freedom to express anything privately without the risk of it being shared with third parties."
The launch of 2key is a timely one, as Facebook sees a decline in usage from teens who prefer the privacy of messaging apps such as Snapchat, which recently had 4.6m users information leaked. 2key is safe and secure because personal information isn't needed to connect and all data is anonymous and encrypted to the highest level (not even 2key can access it) so no one except the users will ever see it.
With 2key, each connection has its own uniquely paired codes, known as keys, thus the name, 2key. It's only when each key is entered into each phone, the connection is made. The connection can be a quick chat or remain for long term friendships.
Sharing a key with new people met online or in person is the safest way to casually connect and have some fun. Whether it's the cute girl from the cafe or the fun guy from last night's party, potential friendships, or even romances, can start, continue or be freely erased. Instead of swapping information, printed keys are available to buy online to connect on 2key after meeting in person.
It's a universal need to be safe when connecting to people and to keep sensitive information private. It's especially important for parents to know their kids are communicating safely in their socially connected world. 2key gives everyone peace of mind that there is a safe place to chat and have fun in private.
2key is now available for iPhones and free to download from the App Store.
For more information visit http://www.2key.com.