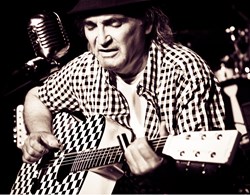 Here's a journeyman player who seems to care little about much except his pocket full of songs and any guitar handy... and yet he is one of the best there is. Steve Bell NY Journal News
Athens, GA (PRWEB) January 15, 2014
Eric Sommer, Pop Americana Artist, has found his way back to Texas. And just in time.
Mr. Sommer sets up his rockshop on Saturday, February 1st in Austin at The Speakeasy, one of Austin's Premier showcase rooms for live music. The Speakeasy is located at 412 Congress Ave, right in the heart of Austin, Texas, which calls itself the live music capital of the world - and that's pretty close to the mark.
Eric has three shows scheduled - 10pm on Saturday, February 1 in the Back Room at The Speakeasy, and an early show - 5pm - and a late show - 11pm - on Saturday, February 8th. The Speakeasy has at least 3 stages and one of the best rooftops in Austin!
The Speakeasy is where Mr. Sommer first landed at an open mic in Austin, played a few spots... and has since found a ready stage whenever he is in the area; the back room is acoustically strong, the sound is crisp and mixed well and it's a real showcase for excellent players with a high stage and a great bar.
From a few open mics during the summer to spots in some of Austins premier showcase rooms, this singer and songscribbler has come a long way in a short time. Or so it seems.
The truth is, Mr. Sommer has been playing and singing, writing and performing for years, traveling alone along America's highways and side roads, gas stations and bus stops and he's captured most of this in a deliciously rocking show sprinkled with thoughtful, literate songs - and it's clear his songwriting and singing chops are all there in spades. But the kicker is he's one of the most innovative open-tuning, slide and pickin' guitar players in the country.
With open tunings, slide guitar, lap-slap tone guitar and a remarkably aggressive fingering style approach, watching Eric Sommer will make you jump out of your seat and holler for joy. And the songs, the words and the lyrical quality belie a deeply sensitive approach to documenting cast-aside events and recording the human experience - honestly or otherwise.
Mr Sommer has three books of prose, short stories and writings and most are available at Eric Sommer website.
These songs are visual fabric to the American narrative of freedom and creative expression, making message and content work effortlessly with technical skill and musical inventiveness. It's a remarkable combination.
There are very few players who have maintained this authentic American style of guitar and Eric Sommer is one of the very best.
Amen.
__________________________________________________________________________________
For Music Samples, please visit Eric Sommer online for additional schedules or contact him at eric(at)ericsommer(dot)com or call 202-255-1995. Additionally, you can find Eric Sommer on Facebook(dot)com/ericsommermusic and Twitter @itsericsommer. Rainy Day Karma is also available on iTunes and CDBaby.
Eric Sommer is represented by Clyde is Thinking, and PR programs are managed thru MTG/NY. For more information, promo/appearance requests or to set up an interview, please contact Tom Monihan 202-255-1995.