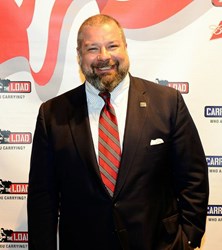 McKinney, TX (PRWEB) January 10, 2014
Attendees will also welcome 2014 Board and Leadership team members and recognize departing board members and celebrate the Ambassador of the Year. The event is sponsored by Baylor Medical Center at McKinney. This event kicks off the Chamber's yearlong centennial celebration recognizing a century of success and 100 years of service to the McKinney Business Community.
Bruce is highly sought after as a speaker for high-performance organizations in business, collegiate athletics and professional sports. Bruce is uniquely experienced as an Athlete, Military Special Operations Leader, and Entrepreneur. He expertly shares lessons learned from those experiences and from those who mentored him, led him, served and played alongside him. With humor, conviction, sincerity and passion – Bruce drives homes proven lessons and truths organizations can immediately integrate into their own leadership and team development practices and ethos.
His unique background includes:
Athlete

4-year letterman as a linebacker at the United States Naval Academy.
Co-Captain and MVP of Navy's 1996 Aloha Bowl Championship Team.
Co-Captain of the South All-Stars Team in the 1997 North-South Hula Bowl.
Free-agent tryout with both the Baltimore Ravens (1997) and New Orleans Saints (1999).
Special Operations Leader and Advisor on National Security

Former Naval Special Warfare Officer (SEAL).
Multiple tours in support of National Security (pre 9-11) and the War on Terror (post 9-11).
Subject Matter Expert featured on O'Reilly Factor and other major media outlets.
Entrepreneur

Co-Founder and President of Trident Response Group LLC since 2005. Trident prevents risks and solves problems for the best private sector leaders in the United States.
Co-Founder and National Speaker for Thirty&3 since 2010. Thirty&3 provides high-value insights to leading businesses, professional sports organizations, and collegiate athletic programs while creating personal and professional development opportunities for combat veterans.
Grateful American

Co-Founder and Chairman of Carry the Load (carrytheload.org). Carry the Load is a movement created in 2011 to restore true meaning to Memorial Day and to honor the sacrifice of not only Military, but Law Enforcement, Firefighters and Rescue personnel as well.
The event will be held at Eldorado Country Club from 11:30 a.m. to 1 p.m.
For more information, please visit mckinneychamber.com for more information and online reservations or contact the Chamber office.
About the McKinney Chamber of Commerce
The McKinney Chamber of Commerce is an advocate for the McKinney business community and proudly serves as the unified business voice of McKinney. The McKinney Chamber of Commerce proudly serves over 1,200 member businesses representing over 39,000 employees throughout the North Texas region. With a rich heritage of leadership and collaboration, the Chamber works in concert with the City of McKinney, community partners and the corporate community to promote, advocate for and expand business, and earned its four-star accreditation with the U.S. Chamber of Commerce. As publisher of McKinney Magazine, McKinneyOnline.com and McKinneyChamber.com, the McKinney Chamber markets the community's advantages as the foremost location for doing business.