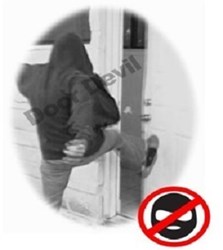 Most homeowners would be horrified to realize less than one inch of soft wood is all that holds their deadbolt in place.
Dallas, TX (PRWEB) January 21, 2014
In late 2013, the FBI released the nation's annual crime statistics which included a sobering 1.4 million burglaries. In an effort to fight back, industry leaders of their field such as ADT®, Door Devil™ and HOA-Express showcase innovative solutions in this year's Hottest Home Security Trends that illustrate how homeowners plan to stay one step ahead of criminals in 2014.
"Anti-Kick" Door Security Kits
Most homeowners would be horrified to realize less than one inch of soft wood is all that holds their deadbolt in place. Unfortunately, criminals are aware of this vulnerability. A single forceful kick easily destroys a standard doorframe and allows criminals into the home in seconds. That is why kicking the door continues to be the preferred method of entry for burglars.
In recent years, door security solutions were either too complex to install for the average DIY homeowner or were "gimmicks" that would never stop a 200 lb. man from kicking-in a door. However, a new generation of anti-kick doorframe reinforcement products - such as Door Devil™ - is earning "street cred" with Police and Crime Prevention professionals because of the documented accounts of thwarted burglaries. This type of solution simply affixes to the existing doorframe and can be installed in approximately 30 minutes.
While alarms are excellent burglar deterrents, they don't stop kicks. With simple and effective door security options now available to homeowners, the addition of "anti-kick" reinforcement is expected to be one of the hottest home security trends in 2014.
Home Security Automation
Without question, Home Security (Alarm) Systems are one of the most effective burglar deterrents a homeowner can implement. In 2014, the traditional alarm system is getting a facelift and early indications show the sexier version to be a big hit with homeowners.
ADT's Pulse®, for instance, allows the homeowner to remotely lock doors, arm/disarm the alarm, check security cameras and adjust the thermostat. Consumers can expect fewer home security commercials with the familiar bad guy kicking the door while mom and kids huddle helplessly in the den. Instead, one is more likely to see Soccer Dad checking the "driveway cam" and turning on the porch light using his iPhone.
With technological advances in security software and the proliferation of the smart hand-held device, it is no surprise that leaders in the $3 Billion Home Security Industry have targeted Home Automation as a key area of growth. By 2019, according to Transparency Market Research, the Home Automation market is expected to grow to an estimated $16.4 Billion.
While Teleco and Broadband companies such as Comcast (and their XFINITY® product) attempt to establish a beachhead in the Home Security market, traditional Home Security giants have already begun to combat this intrusion with multi-million dollar ad campaigns. As a result of the imminent Great Home Security Advertising War of 2014 between these behemoths, Home Security Automation is expected to be one of the fastest growing trends this year.
HOA and Crime Watch Websites
A trend that may not be as obvious, but just as critical in the home security big picture, is the increasing number of HOA and Crime Watch groups establishing their own websites. With busier schedules, HOA website sites provide neighborhoods with an easy way to band together, exchange information, manage Association business and warn each other of suspicious activities (and characters) in the area.
The improvement in website platforms makes this process simple and intuitive for community leaders with only basic PC skills. It is no longer necessary to speak Klingon to set-up and manage a well-organized, great-looking website.
Further mitigating the entry barrier are one-stop shop hosting and application providers, such as HOA-Express, that cater specifically to the needs of HOA, Crime Watch and Neighborhood Associations. Often, these companies will provide a free basic website and charge only a nominal monthly fee for additional bells & whistles.
As an indication of the growing popularity, NieghborhoodLink.com alone now boasts nearly 45,000 neighborhood websites. With the low cost and increasingly simple set-up, HOA/Crime Watch sites are expected to continue gaining popularity in 2014.
For more information on Home Security visit: http://www.doordevil.com.