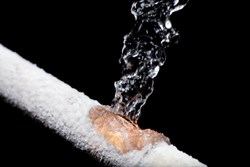 Ensuring that pipes can sustain extreme weather conditions is just as important as shoveling the driveway or carrying an umbrella on a rainy day.
(PRWEB) January 14, 2014
Seva Call (http://www.sevacall.com), a DC-based virtual concierge service that matches and connects consumers to top-rated local service professionals by phone, reports seeing a noticeable spike in weather related service requests due to the much reported polar vortex. The impact was felt in categories like Heating and Cooling and Windows, but the sharpest increase was the number of requests seeking plumbers to fix burst pipes. Busted pipes lead to flood damage, loss of indoor plumbing, and even exposure to raw sewage.
The sudden and unprecedented arctic chills associated with the polar vortex caught many households by surprise, but there are ways to be better prepared.
"Ensuring that pipes can sustain extreme weather conditions is just as important as shoveling the driveway or carrying an umbrella on a rainy day," explained Seva Call Employee #1 Rajesh Karyampudi.
Pipes burst when heat transference causes water to freeze and expand. The temperatures under which that is likely to happen vary based on factors such as wind speed and home insulation, but it becomes a possibility at as high as 20 degrees Fahrenheit. Fortunately, preventing burst pipes- even in the coldest of weather- is simply a matter of addressing insulation and heating problems and, maybe, making small changes to your routine during times of extremely low temperatures.
MEDIATING RISK FACTORS:
Walls, insulation, and foundations all work as a buffer against the cold air and wind threatening the pipes in a home. Cracked, punctured or missing walls as well as inadequate wall and pipe insulation increase the efficiency of heat-loss and the likelihood that water inside a pipe will freeze. To protect water pipes, homeowners should...
-- Fit pipes with insulation sleeves (as much as 1-2 inches thick)
-- Seal cracks and fill holes in outward facing walls and foundations using caulk
-- Consider rerouting water pipes through the home's interior where there is less cold air exposure- away from attics and other low-temperature zones.
No amount of insulation can entirely eradicate all degrees of heat-loss from a pipe itself. So, in the absence of a heat source to combat long-enduring chill, pipes are bound to freeze eventually. This should, incidentally, give pause to homeowners who try to save money by toughing out cold weather by living in layers, because they are not just compromising their health, comfort, and quality of life- but the very infrastructure of the home is also at risk. To warm pipes, rather than merely conserve some heat, homeowners should...
-- In case of extended extreme chill during a long absence, program the thermostat to bring the home to room temperature at least once daily or include doing so on the to-do list of a trusted home-sitter.
-- Open kitchen and bathroom cabinets during the extreme cold. Cabinets often insulate pipes against an indoor heat source making these areas chillier than the rest of the home. Of course, open cabinets may be a hazard during high-traffic times, but doing this at night when water flow is reduced is when the practice can make the biggest difference. Consider using a plug-in night-light for the bathroom to avoid banging legs against cabinet doors.
DISCOVERING A FROZEN OR BUSTED PIPE
A telltale sign or a frozen pipe clogged with ice is that the water will run slowly or not at all. If caught early, there may still be a chance to prevent a leak. Use a hot blow-dryer to warm the pipe and melt the ice inside. If no water leakage forms, then homeowners can further mediate risk in the short-term by letting one or two faucets lightly drip. The strategy will not prevent ice formation, but it will alleviate pressure on the pipes until better solutions are applied.
If, on the other hand, droplets of water form on the pipe surface once melted, then the pipe has burst. At that point, residents must shut off the main water valve to prevent water damage and contact a plumber immediately.
Fortunately, Seva Call can help homeowners find plumbers to replace busted pipes, even during a weather emergency. No stranger to helping consumers cope with extreme weather emergencies, the service performed its pre-launch beta test during the 2011's notorious East Coast storm nicknamed Snowmaggedon and scores of searching consumers seeking snow removal services were connected with available plow-drivers in the DC metro area within minutes.
To connect to available service professionals through Seva Call, users simply visit http://www.sevacall.com and enter their location, availability, and a description of the service needed. Seva Call's algorithm filters through thousands of local businesses. It picks the best matches based on proximity, availability, the job needed and even quality control measures like online consumer ratings and reviews, social media interactions and call analytics. Then, consumers answer their phone and say hello to the first of up to 3 matching pros. No sharing contact information, surfing review sites, calling around, getting disconnected lines, or leaving messages.
In over 50 service categories like roofing, painting, and heating and cooling, Seva Call saves consumers time and energy while finding the skilled professionals who match their schedules, service their needs and answer their questions. All of this without compromising personal privacy, charging membership fees, or interfering with the quality customer service small businesses are known to provide.
Seva Call raised $1.3 million in Series-A funding last fall and has launched in a plethora of cities across the United States including Miami, Atlanta, Indianapolis, Baltimore, Philadelphia, Columbus, and Boston. Connect with Seva Call on Facebook, Twitter and YouTube.