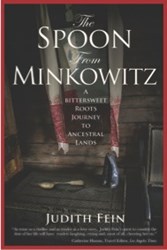 "As tense as a thriller and as tender as a love story, Judith Fein's story of her quest to connect the dots of her life will have readers laughing, crying and, most of all, cheering her on."--Catharine Hamm, Travel Editor, Los Angeles Times
Santa Fe, NM (PRWEB) January 14, 2014
Judith Fein, Santa Fean and award-winning travel writer and author, announces the publication of "The Spoon from Minkowitz: A Bittersweet Roots Journey to Ancestral Lands." In Santa Fe, Fein will be appearing at two events designed to celebrate and honor those who came before, and explore life-changing potential of "ancestral travel." The 256-page book is now available on Amazon.com this week for $18.95 for the print version; it will also be available in all e-book formats. As of today, the book is in the top 4 in two categories on Amazon.com, "Travel Writing" and "Speciality Travel."
In THE SPOON FROM MINKOWITZ, the author dives beneath the surface of her Russian Jewish American heritage, pushing past all obstacles to find the truth behind the shrouded story of where she came from, what remains of that world, and what really propelled her ancestors—and our own ancestors as well—to depart from the Old World and make the long journey to America.
True to her personality, Fein refuses to take "no" for an answer as she treks through graveyards, has a private audience with the Gypsy Baron of Moldova, meets the last Jew standing, communes with the dead, quaffs cognac with Russians, wanders among ruins, and hears the call of the ancestors. The book invites the reader to examine our own legacies and what is handed down to in families and relationships, giving new meanings to fears and longings according to ancestral heritage.
For advanced praise and excerpts, please visit here.
SANTA FE EVENTS:
On February 23, 2014 2-5 pm at Temple Beth Shalom; CALLING IN THE ANCESTORS: Fein will be speaking and signing books at an interfaith, community-wide, interactive event where the public is invited to bring a dish passed down in their families. It will be a potluck of our ancestors. There will also be a surprise communal art project, and attendees are invited to bring a photo or object from a grandparent, great-grandparent, or any other ancestor. The New Mexico Jewish Historical Society will co-sponsor the event.
March 1, 2014 7-9 pm at Garrett's Desert Inn; the opening of a month-long show called BONE VOYAGE: TRAVELING BACK TO OUR ANCESTORS. Fein will be talking about her artwork with animal bones and the power and impact of both human and animal ancestors. The exhibit and book signing is curated by the gallery owner of the Last Gallery on the Right (Canyon Road) and will include the work of 8-10 artists interpreting their own roots. Fein has been painting on the bones of bison and elk as a way of interpreting the importance of creativity as a method of reaching and interpreting our ancestral roots.
###
ABOUT JUDITH FEIN:
Judith Fein lives to leave. An award-winning travel journalist, she is either on the road or on her computer in Santa Fe. She has contributed to more than 100 international publications, including the Los Angeles Times, Boston Globe, Dallas Morning News, National Geographic Traveler, the Jerusalem Post, Hemisphere, Islands, New Mexico Magazine, Travel Age West, Organic Spa, and Spirituality and Health. She is the author of the acclaimed book, LIFE IS A TRIP: The Transformative Magic of Travel. Judith is a keynote presenter for many conferences, including the Adventure Travel Trade Association, and TEDx San Miguel de Allende. Widely lauded as a speaker and storyteller, she is a frequent guest on broadcast media, was a regular contributor to The Savvy Traveler for six years, and has been heard on the BBC, All Things Considered, and Marketplace. With her photojournalist husband Paul Ross, she teaches public speaking and creativity as applied to writing, PR and Marketing.
Judith can be contacted at Judie(at)globaladventure(dot)us.
For other media inquiries, please contact
Jennifer Hinsley
505 603 8643
Jennifer(at)jlhmedia(dot)com