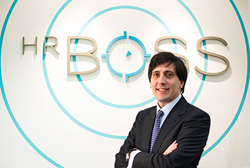 I am excited to have the challenge of learning the needs of a new industry and bringing expertise from my discipline and practice into the world of HR and Recruitment, working towards new milestones in my passion for innovation and new technology."
(PRWEB) January 13, 2014
Leading the technological revolution across Asia, HRBoss, an Asia-based software-as-a-service (SaaS) provider for global businesses in the HR & Recruiting Industry, announced today that Craig Cook has joined HRBoss as Chief Information Officer (CIO). Having graduated from Purdue University with a Bachelor of Science in Computer Science, Cook spent 14 years at Microsoft, bringing extensive technology leadership experience to join HRBoss's strong management team. This news is a testament to HRBoss's commitment in establishing themselves as a prominent leader of HR & Recruitment solutions in Asia, with ambitious plans to continue scaling across APAC and expanding into the US & Europe this year.
"We believe in employing the best people to power and grow HRBoss." Bernie Schiemer, CEO and Founder of the multi-tenant breakthrough software company commented. "We are extremely pleased to welcome Craig to the HRBoss family. It is without a doubt that his talent and expertise will strengthen our leadership in the software industry arena, streamlining our business and leading HRBoss to provide enhanced IT infrastructure and products to our customers."
With more than 15 years of experience in large corporations, Craig has an excellent track record having developed and scaled multiple start-up businesses from the software and innovative technology sphere. He also brings a unique blend of technological experience, together with proven architecture and design skills for consumer products, as well as big data solutions and online services to HRBoss.
When asked why he decided to take on his new role as CIO with HRBoss, Cook responded, "Having worked in the Video Game industry for a large portion of my career, I have transitioned with trends from consumer boxed products to online services. It became obvious to me that my expertise and knowledge from large real-time performant systems was highly relevant to other industries too. With first-hand experience developing multiple start-ups in Asia, I wanted to continue working in Asia's start-up scene. I'm thrilled to join Bernie and his team in driving the HRBoss vision."
He added, "The question I get asked most since my appointment is 'how will your years of expertise from Microsoft and online game start-ups fall into place at HRBoss?' Yes… it's a different industry but ultimately, it's still software - simply in a different space and I can add great value here. I am excited to have the challenge of learning the needs of a new industry and bringing expertise from my discipline and practice into the world of HR and Recruitment, working towards new milestones in my passion for innovation and new technology."
Read the Press Release on HRBoss here.
About HRBoss
HRBoss is the fastest growing HR & Recruiting software company in Asia. Founded in 2011, HRBoss is rapidly expanding its footprint across Asia with offices currently open in 7 countries today (Singapore, Japan, Vietnam, Indonesia, China, Malaysia and Hong Kong) with more to follow. All of our Cloud solutions are intuitive, highly-configurable and are supported locally on-the-ground where you are. In 2013, HRBoss has experienced rocketing growth, adding over 10,000 new users from all industries, from local start-ups and government agencies through to industry leaders, including Mitsubishi Fuso, Mondelēz International and the Monetary Authority of Singapore (MAS). The HRBoss team consists of some of the most sought after talent in the industry, with experience that takes in SAP, Oracle, Hays, Lumesse, Accenture and Michael Page International.