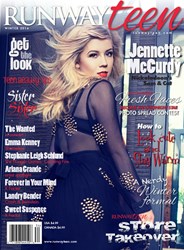 @runwayteen
(PRWEB) January 11, 2014
The latest branch in the proverbial family tree of Runway Media Group has emerged in the form of an innovative celebrity fashion magazine that is for teens by teens. Appropriately named Runway Teen, the fashionable kid sister to its successful predecessor Runway, it features exclusive celebrity interviews, beauty and fashion tips for the teen demographic, juicy Hollywood gossip and a contest that gives the reader a chance to be a star.
Accomplished actress, singer-songwriter and philanthropist Jennette McCurdy graces the cover of the debut issue of RUNWAY TEEN and is helping to launch a modeling contest for one lucky reader that will allow them to be featured in an upcoming issue of RUNWAY TEEN as well as attend a Hollywood party with the Nickelodeon starlet.
Available in both a printed limited first edition hard copy and digital media copy through the RUNWAY US app, readers can expect to find a wide array of topics geared toward the teen demographic inside the issue.
In addition to Jennette McCurdy, RUNWAY TEEN'S winter issue includes interviews with teen actress and star of Showtime's "Shameless" Emma Kenney; "The Hunger Games" Stephanie Leigh Schlund; a spotlight on vocal powerhouse Ariana Grande and many more.
Get exclusive access to behind the scenes footage and photos from the debut issue of RUNWAY TEEN on http://www.facebook.com/runwayteen, and follow us on Twitter: @Runway, http://www.twitter.com/runwayteen.
Download the RUNWAY US app on Google Play and in Apple iStore by searching RUNWAY US in your app store.
See you on http://www.RunwayTeen.com.