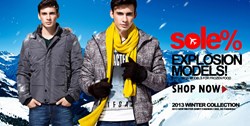 (PRWEB) January 14, 2014
Recently, Skmen.com, a famous online shop of hot styles of clothes, has announced its new collection of clubwear mini dresses. Aside from that, the company has launched a special offer on all these fashionable outfits. All customers from around the world can get a discounted rate, up to 45% off.
Each outfit offered by the company is unique on its own. Now, a lot of the company's items come with huge discounts or eye catching promotional offers. Skmen.com is a perfect platform for those who want to be trendy and fancy a colorful wardrobe. All its products are inexpensive, while each of them is of supreme quality. What's more, the company offers an enjoyable and secure buying process.
The company's top experts pay much attention to customer needs and customer satisfaction. From its product category, customers can always find their dream dresses at affordable prices. It has thousands of beautiful, top quality designs in stock and ready to ship. The new clubwear mini dress collection is no exception.
Additionally, the company will strive to offer highest quality products at lowest possible prices in 2014. It has won a great worldwide reputation as one of the finest dress suppliers in the market.
About Skmen.com
Skmen.com, a China-based company founded in 2009, is one of the leading suppliers of men's and women's high quality clothes. It has more than 5000 customers from every part of the world, helping the people develop self-esteem, confidence and love of learning. For more detailed information about Skmen.com and its various kinds of clothes, readers can visit http://www.skmen.com/product-sexy-clubwear-dress-003004009.aspx.